During my whirlwind three day trip to Guatemala, I used the city of Antigua as my base, staying at the San Rafael Hotel while going on day trips to Lake  Atitlán and Pacaya Volcano.
Located less than an hour from Guatemala's capital Guatemala City, Antigua is the most visited destination for tourists in the country. In fact, 60 percent of visitors in Guatemala pass through Antigua. Founded as Santiago de Guatemala, the city served as the country's capital from 1543 until 1773. In this year massive earthquakes destroyed much of the town and the capital was relocated to its current location.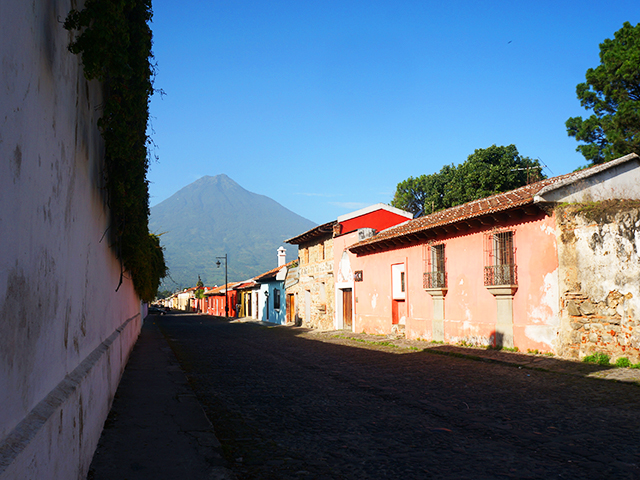 With well-preserved buildings and a wealth of colonial architecture, today the city is an UNESCO World Heritage Site. The beauty of Antigua is found in walking its streets, not my words, so follow me along on a photo tour of the city!
The most recognizable feature of Guatemala is Santa Catalina arch. This once served as a corridor from a convent to a school, so that nuns could pass without having to walk in the street. Today it is the most popular place to take a photo in the city.  Through the arch you can also see one of the several volcanoes visible from the town's center.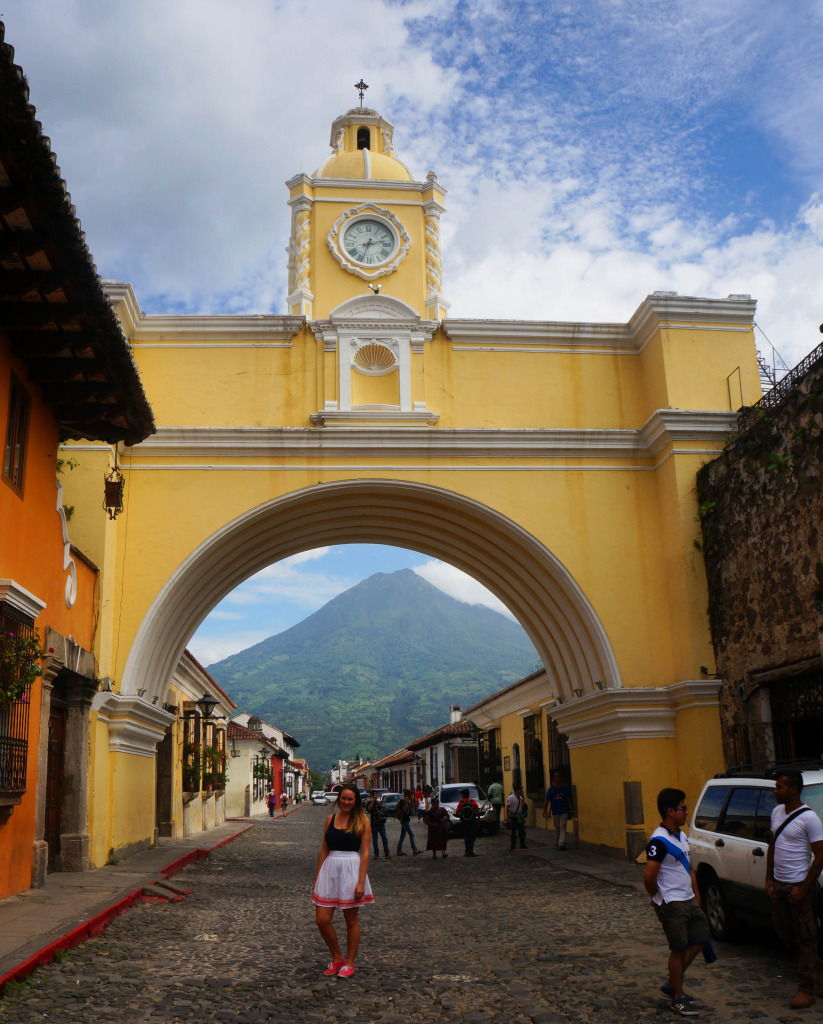 Facing in the opposite direction from Santa Catalina Arch, the colorful street leads to La Merced church.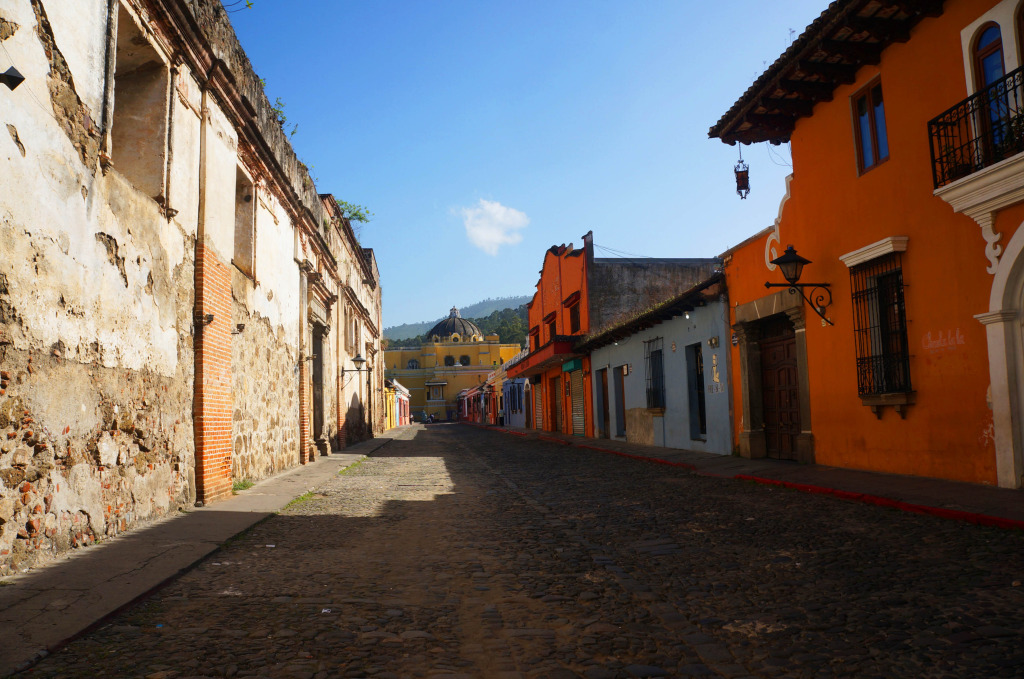 La Merced Church is a bright yellow Baroque church that once served as a male monastery.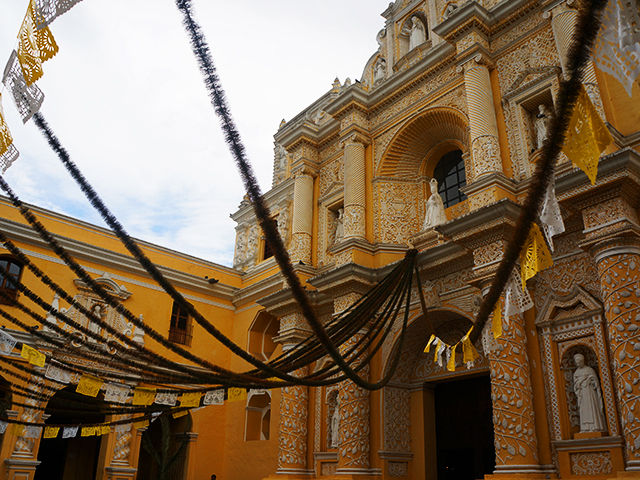 Antigua is full of churches, and, given the great number of earthquakes that have occurred in the area, many are now ruins. The ruins below of El Carmen Church are some of the most dramatic. The local Mayan population sets up markets in front of them during the daylight hours.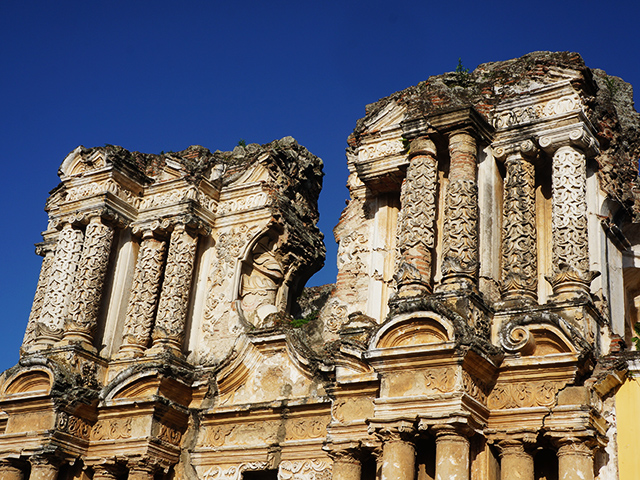 The building below once served as a convent. Women who were found to be misbehaving were sent to live here. It is rumored they dug tunnels leading to a local monastery in search of male companionship.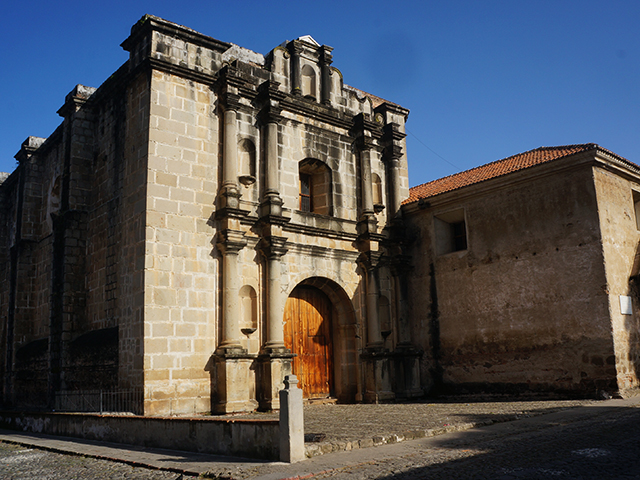 Antigua's Central Park is an energetic meeting place for locals. The fountain here depicts mermaids and is a gathering spot for local entertainment and musicians.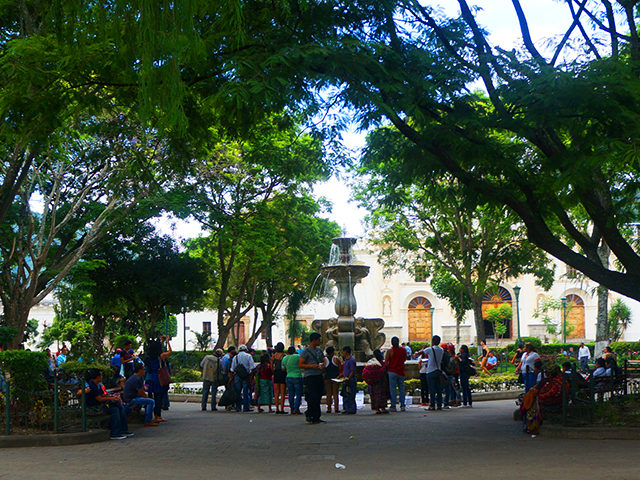 Bordering Central Park, the Palace of the Capitans, pictured below, was once an extravagant home for Spanish Generals and housed the Army headquarters. Today it is the headquarters for the Guatemala Institute of Tourism.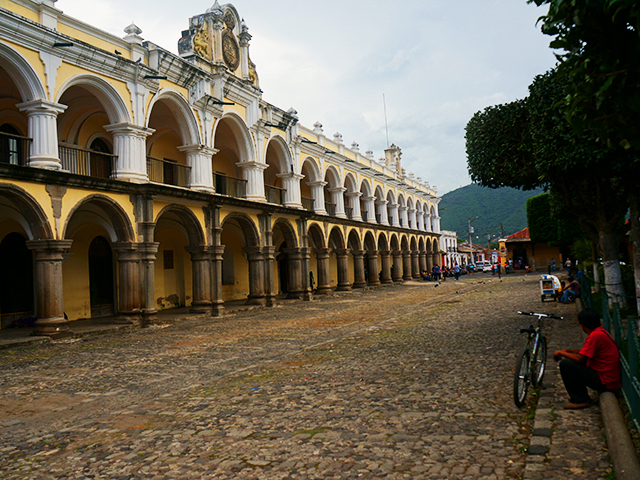 The Cathedral de San Jose also borders the central park. If its facade seems impressive, that's because it was restored following earthquake damage in 1773.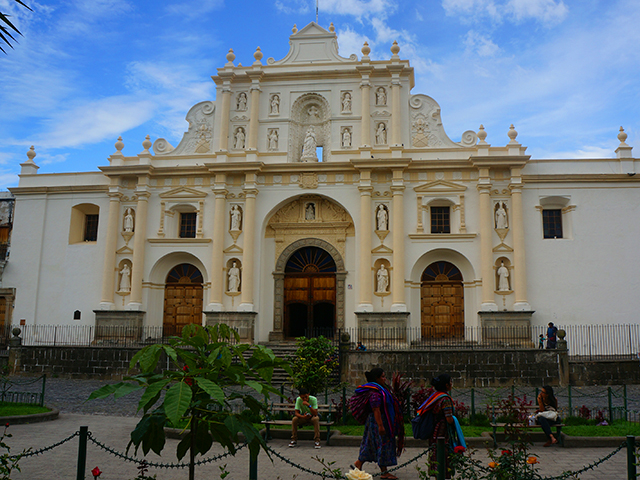 Being a World Heritage Site means that buildings in Antigua have to adhere to historical guidelines. Fast food restaurants are prevalent, however you may note that their facades are quite different from an average shop. Take a peek at Dunkin' Donuts below.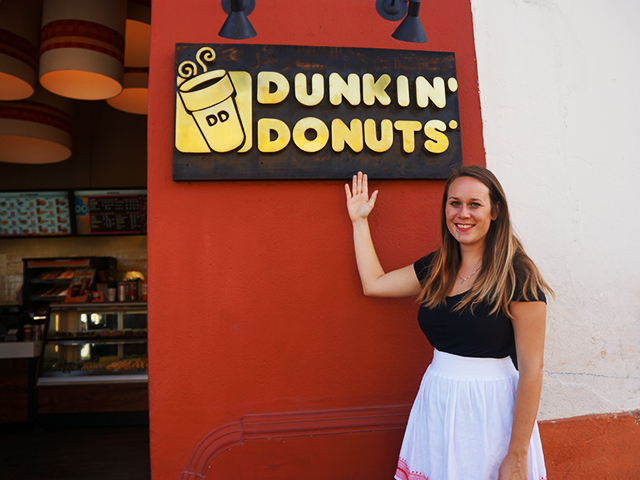 When I asked a local what to see in Antigua, one of the recommendations I received was McDonald's. It may seem strange, but the McDonald's in Antigua has a beautiful garden that offers visitors the chance to meet Ronald McDonald himself.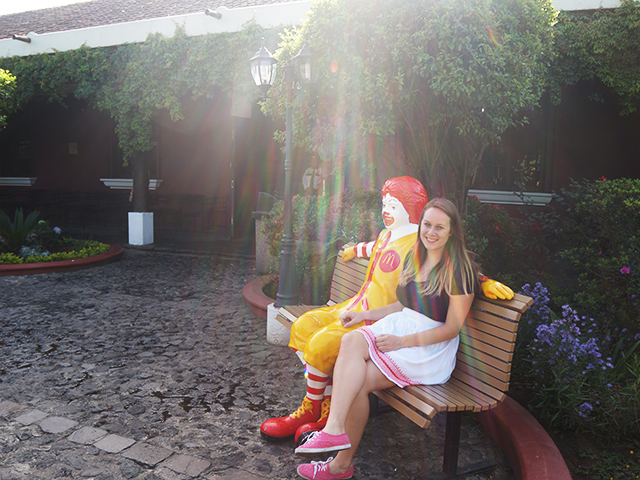 Ok, it's actually more likely that I was recommended to visit this fast food establishment because its garden offers some of the most impressive volcano views.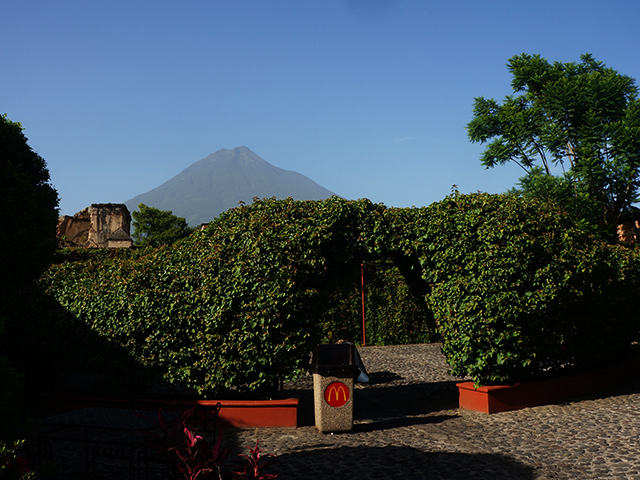 Fast food aside, I preferred wandering the streets in search of food at more local establishments like this one below.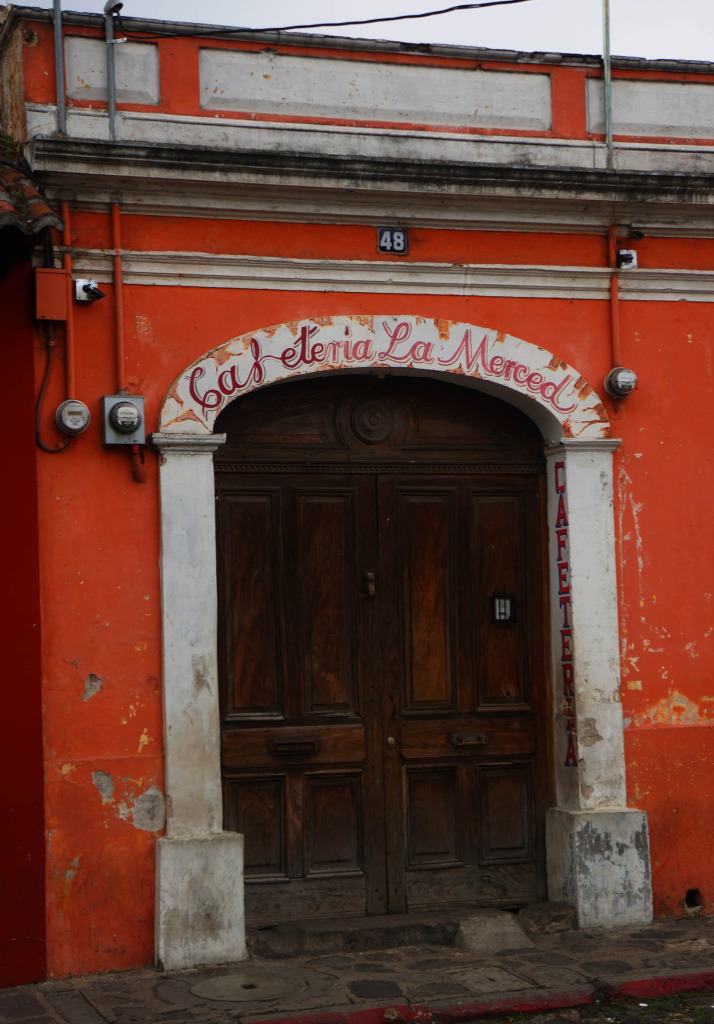 I hope you enjoyed walking around Antigua on my virtual tour. Have you been to Guatemala's most beautiful city? Leave your recommendations for the best sites to see in the comments below!