"We need to move to Ljubljana," I say to my mom as we sit at a cozy round table in the corner of JB Restavracija.
The restaurant, situated in the downtown of Slovenia's capital city, is located in a historic building from the 1920s.
"Yes, we must move to Ljubljana so we can eat this food and drink this wine every day," I add.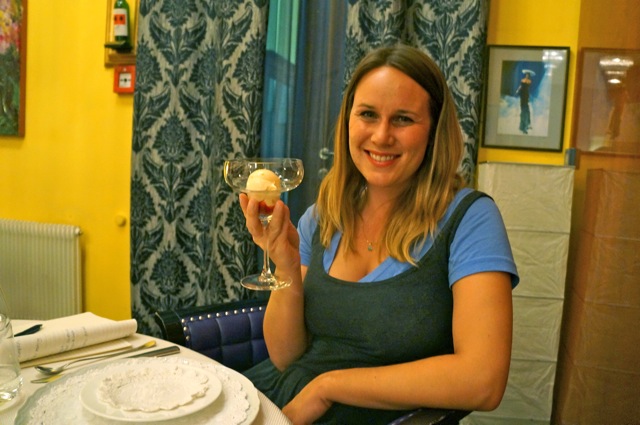 In a city that is one of the best for world-class dining in Europe, JB Restavracija, known in English as JB Restaurant, is one of Ljubljana's – and Slovenia's –finest establishments.
Selected as a S.Pellegrino Top 100 World's Best Restaurant in 2010, the family-owned business isn't your average fine dining restaurant. Rather, it's a center for culinary art, whipped, marinated and steamed to life by world-renowned Chef Janez Bratovz. Using fresh ingredients from Ljubljana's farmers market, Chef Bratovz treats guests to several small courses during an experience that lasts two and a half hours. Chef Bratovz was the first to prepare such small, slow cooked dishes in Slovenia. This method of dining is not only trendy and unique, but allows guests to truly enjoy the flavors of each dish.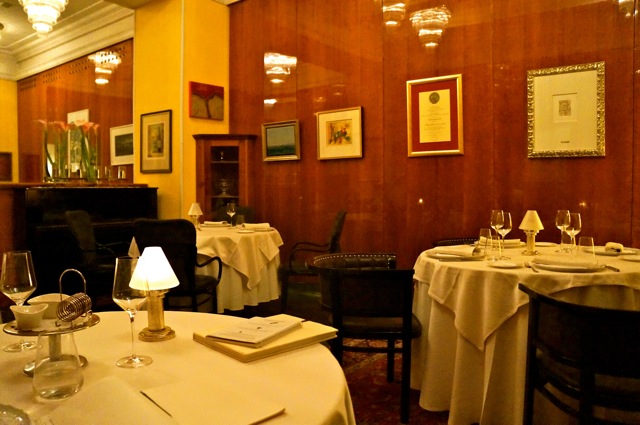 The flavors of each food item burst in my mouth as I ate, a happy smile spread across my face, in awe of the richness of Chef Janez' bold combinations.
JB Restaurant has a set menu and no two evenings are the same. However, to give you an idea of the culinary creations served, here's a look at the dishes I had during a recent dinner with my mom.  All courses were served by our friendly waiter Mihael with a glass of Slovenian wine. As, I do not eat seafood the chef took this into consideration.
Dining in Slovenia: A Taste of Perfection at JB Restavracija
Course one: a "welcome from the kitchen," that included liver pate, avocado and goat cheese.
Wine: Bjana, a sparkling rosé from the Pimorska region.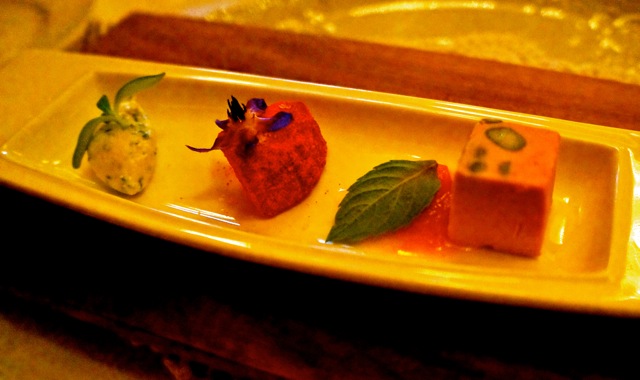 Course two: Terin from pork served with fresh vegetables, homemade mayonnaise and pumpkin oil from Slovenia's North.
Wine: Scurek Rumena Rebula Ribolla Gialla, a light and citrusy white from the Pimorska region.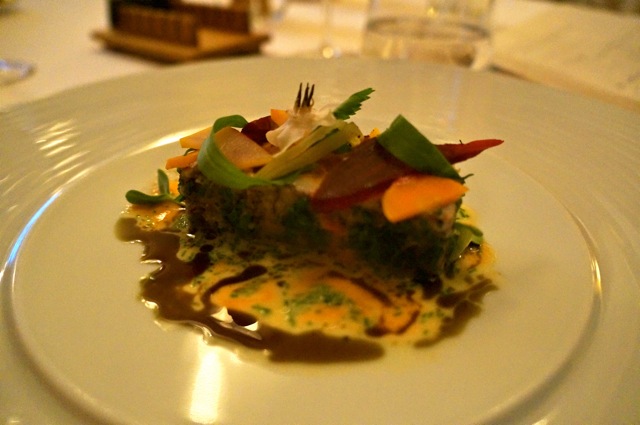 Course three: Egg yoke in pork cracner, a typical breakfast dish in Slovenia
Wine: Pullus, a dry piot grigio from the Podravje region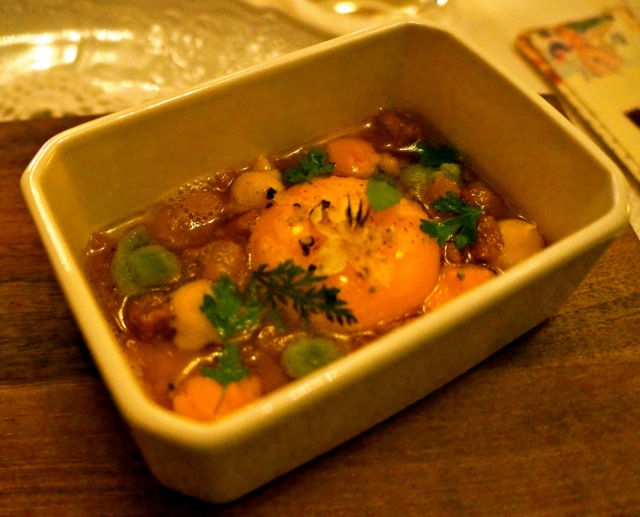 Course four: Ravioli with meat and cream sauces and raw goose liver.
Wine: Stekar Emilio, made with a blend of three grapes, from the Pimorska region.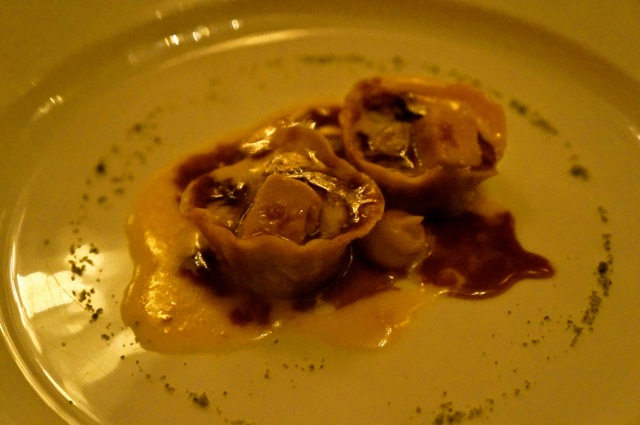 Course five: Cantaloupe sorbet with raspberry on the bottom (to cleanse the pallet)
Course six: Deer lion with strukel, a pastry with cottage cheese.
Wine: Dveri Pax, a pinot noir made exclusively for JB Restaurant from the Podravje region.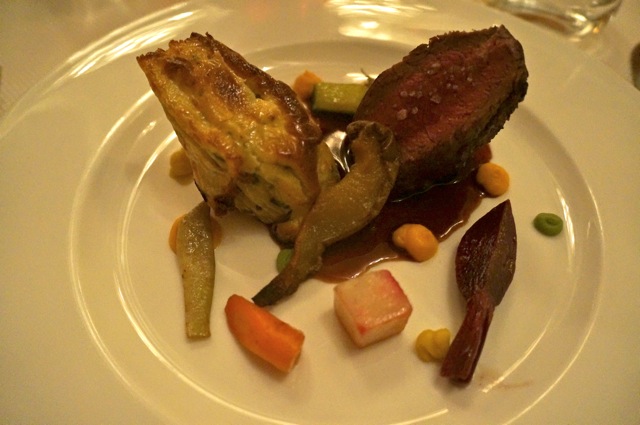 Course seven: Hazlenut ice cream with olive oil, dark chocolate and salt
Wine: Skaza Magister Vini, a sweet white Riesling from the Podravje region.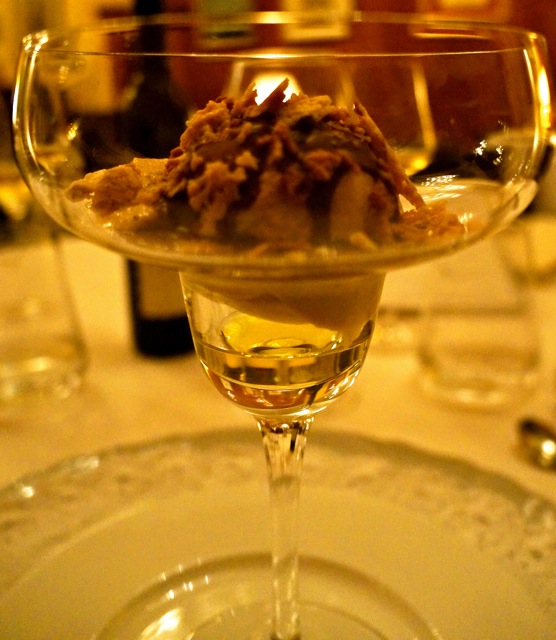 Cookies and coffee ended our dining experience.
Each course was unlike anything I've ever tasted before, though my mom and I agreed the deer loin was our favorite. The dessert was extremely unique and delicious. Who would have thought dark chocolate, olive oil, salt and hazelnut ice cream would make the perfect combination? Well, beside Chef Janez.
Our meal was a very pleasant and relaxing experience. Because we were sitting so long we had time to truly enjoy each dish without getting too stuffed.
Slovenia is such a small nation that it does not have a Michelin guide. However if it did, JB Restaurant would certainly be in it, setting a standard for the rest of the pack.
Note: Slovenia tourism sponsored my meal. However, all thoughts and opinions are my own.