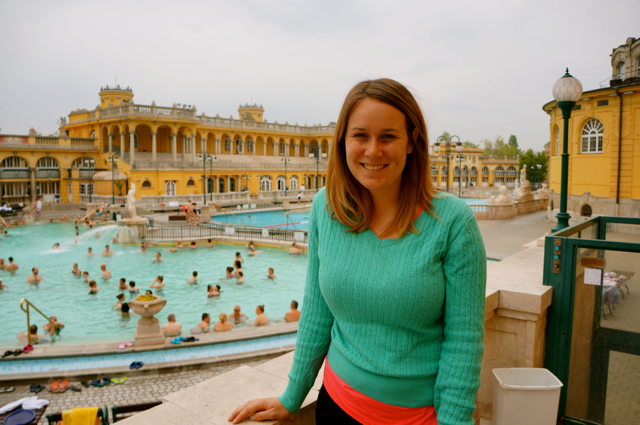 Buapest. Capital of Hungary. Capital of relaxation.
Nicknamed the "City of Spas," Budapest is home to more thermal baths than any other capital city in the world. The city's 15 public baths and handful of private spas are feed by 80 geothermal springs that sit beneath the city, forming the largest thermal water cave system in the world.
The thermal waters have long been a part of Budapest's charm, used by the Romans for medicinal purposes in the 2nd century and becoming a larger and ongoing part of the culture during the Turkish occupation of Hungary in the 16th Century.
The Széchenyi Thermal Baths of Budapest
Today there's certainly no shortage of options when it comes to soaking up medicinal waters in Budapest, but Széchenyi Thermal Bath is without a doubt the leader of the pack. On my recent visit to Budapest I spent a day here spa hopping and soaking my travel stresses away.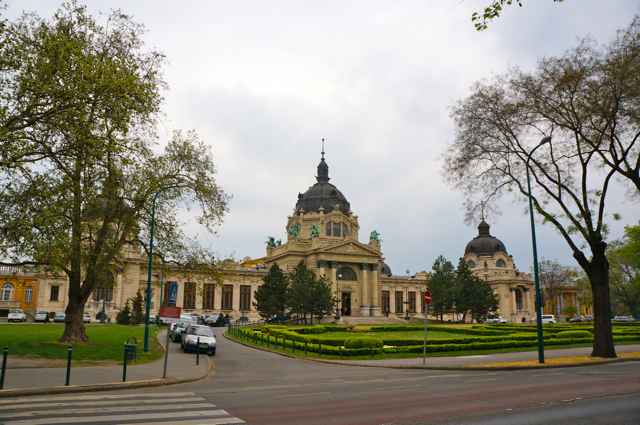 One of the largest complexes of its kind in Europe, the baths are located in Pest on the left side of the Danube.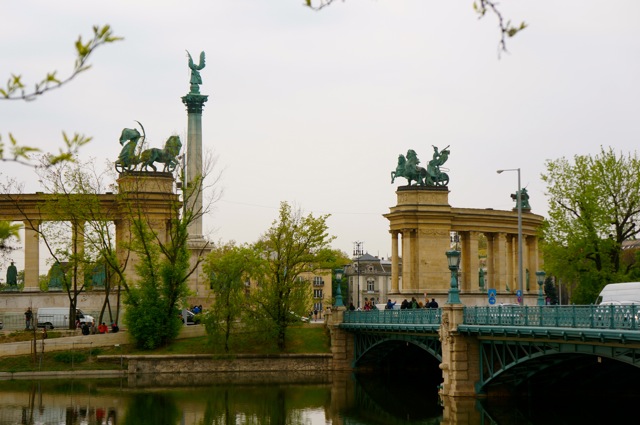 The baths are located in a city park nearby the romantic Vajadhunyad Castle and Heroe's Square, making a trip to the baths and these sights a full day experience.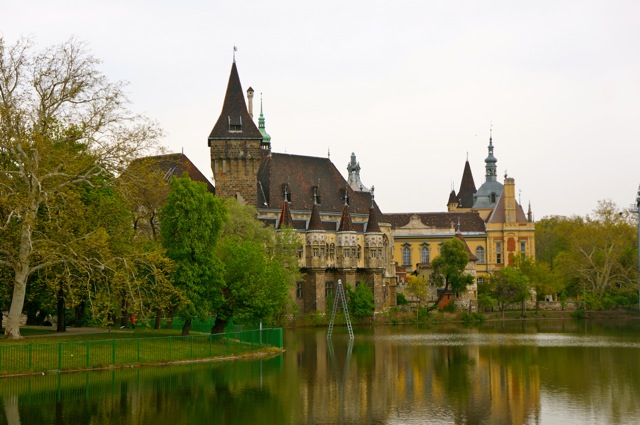 Completed in 1913, the complex boats a modern renaissance style that makes visiting worthy just to take in the glorious marble columns, statues and archways.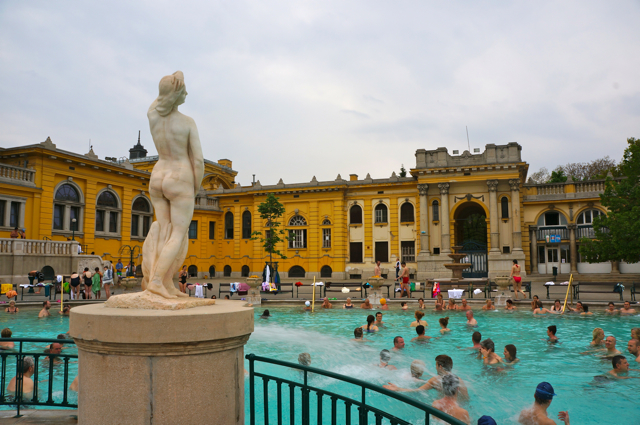 Along with your ticket, you receive an armband that allows you to enter and also unlocks your locker or day cabin. I had a day cabin to use which made my visit much more enjoyable as I had a private, secure place to change and leave my belongings.
The main attraction is the outdoor sitting pool, and even though I visited in April, which is still sweater and coat season in Hungary, the waters here are heated, making it enjoyable to experience despite the chilly temperatures and grey skies.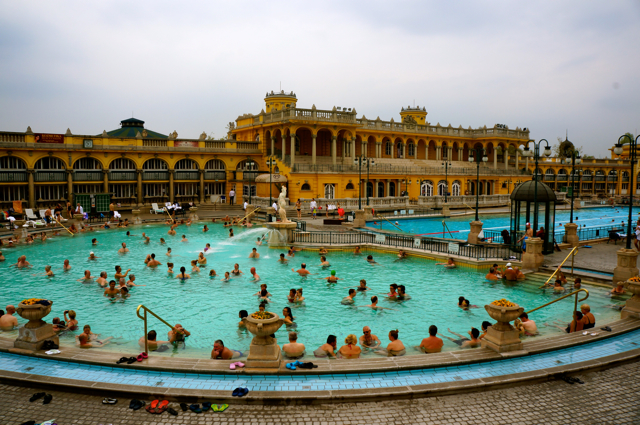 The sitting pool has built in chessboards, and groups of local men play daily.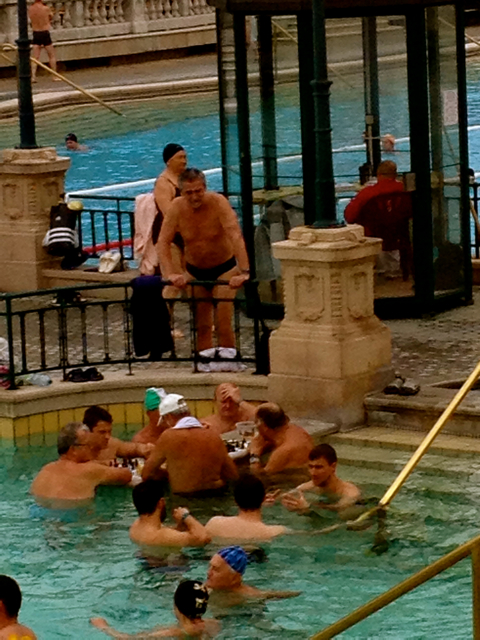 If exercise is your thing there is also a pool for swimming laps outdoors.
Indoors, the pools are smaller and heated to different temperatures for healing.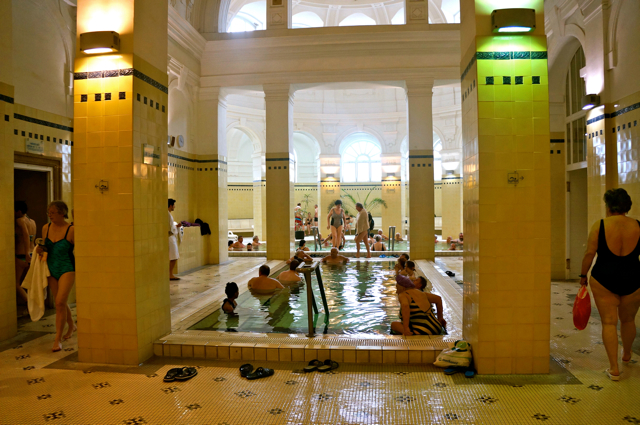 There are 15 pools inside and I spent the majority of the day hopping from one to the next.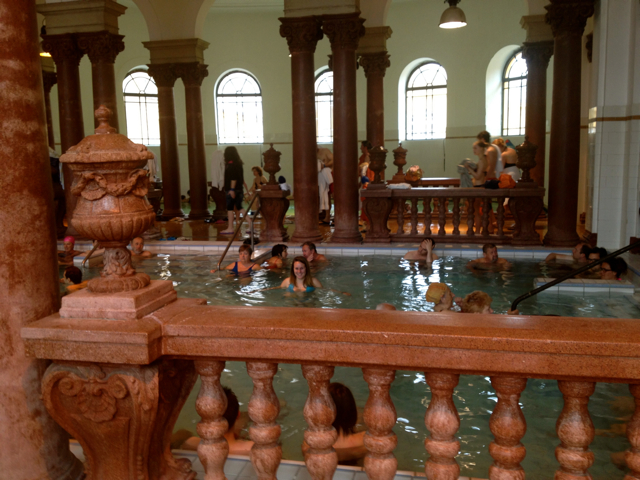 There are also a variety of saunas and steam baths indoors. My favorites included the aroma sauna, which smelt of peppermint, and the light sauna, which changed colors every few minutes.
A wide variety of wellness services, including massages, mud treatments, facials, cellulite treatment and pedicures are available onsite for an additional fee.
When visiting it is essential to bring flip-flops or shoes to wear poolside. Bring your own towel or pay a hefty rental fee and, if you wish to swim in the outdoor lap pool, you will need a bathing cap.
Note: Visit Budapest provided me with complimentary admission to Széchenyi Thermal Bath. All thoughts and opinions are my own.