"The snow glows white on the mountain tonight, not a footprint to be seen.
A Kingdom of isolation and it looks like I'm the Queen."
The lyrics from Disney's Frozen soundtrack blast through my headphones, songs I purposefully downloaded in preparation for my snowy ascent to Jungfraujoch, Europe's highest altitude railway station, accessible from Interlaken, Switzerland.
As I look out the train's window, untouched snowy glaciers and mountain peaks abound, landscape that could have inspired the wintry landscapes of Disney's latest film and matching perfectly with the words sung by Elsa in "Let it Go."
Climbing Snowy Peaks with the Jungfrau Railway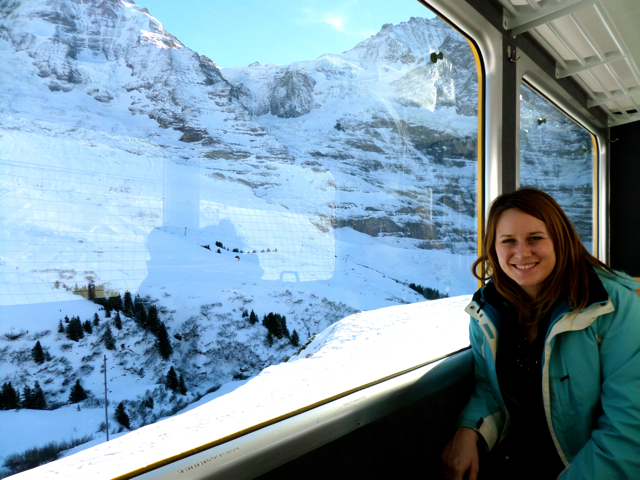 We pass icy rivers and families of tobogganers.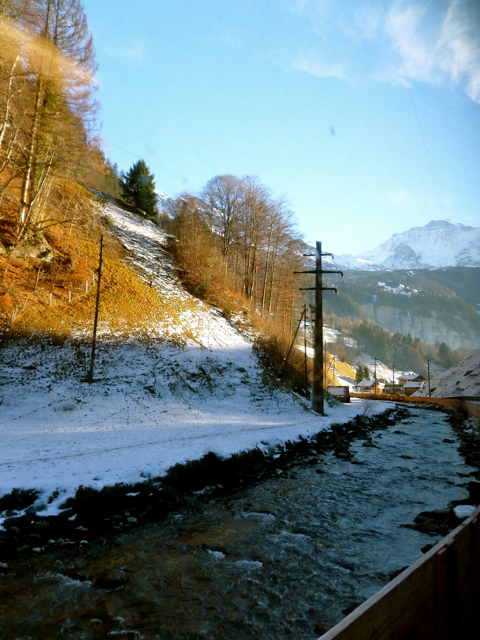 For more than 100 years, the Jungfrau Railway has taken visitors from the grassy meadows of Interlaken, Switzerland, to the Jungfrau glacier, more than 3,400 meters high and aptly nicknamed the "Top of Europe."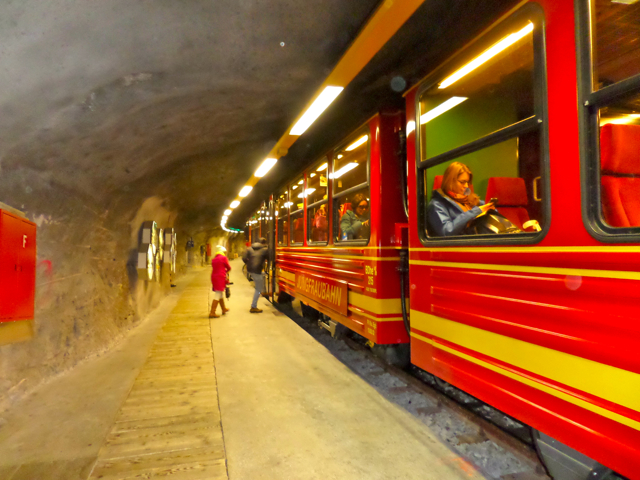 From Interlaken, a journey to the top of the mountain takes two plus hours and requires two train changes, first in Grindelwald, home to a hotbed of ski slopes, and then in Kleine Scheidegg, a high mountain pass also popular with skiers.
The train to Kleine Scheidegg is full of skiers, clad in thick coats and heavy boots. As we pull into the station they disembark, put on their skies and push off to descend the mountainside, no lifts involved.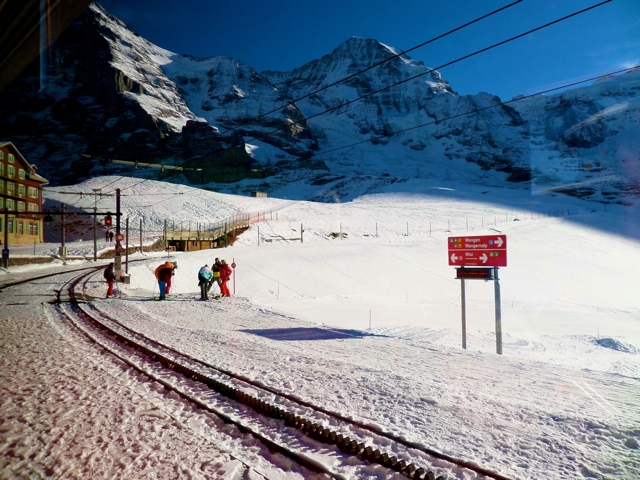 On the scenic accent the train makes five-minute stops at the peaks of Eigerwand and Eismeer, providing several great photo opportunities. The Eigerwand railway station stop was featured in a roadblock of season 22 of the Amazing Race, a show I love to watch for its many travel destinations. I must admit I let out a small cry of excitement at recognizing the narrow rocky tunnels and large glass window lookout points from the show.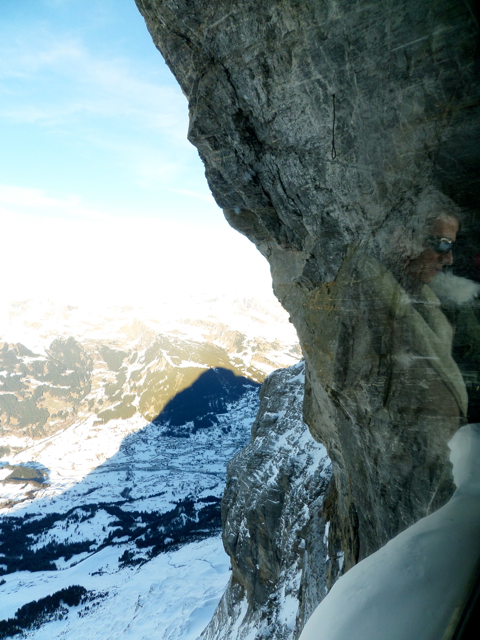 Upon arriving at the Jungfraujoch, a well-marked tour path leads to exhibits, panoramic outlooks and entertainment.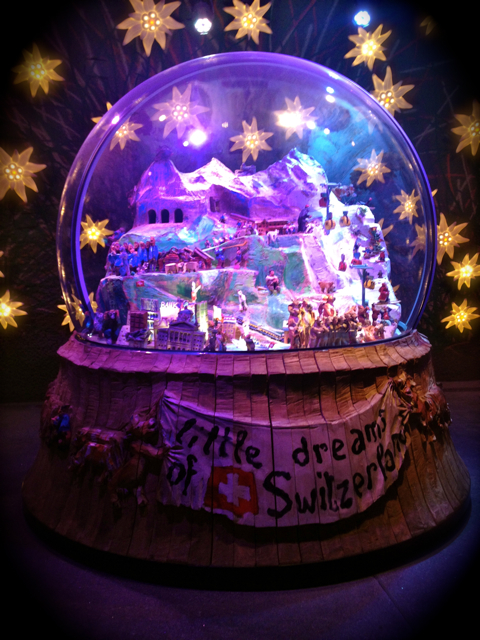 Some exhibits are quite touristy and perhaps unexpected to find atop the highest peak in Switzerland such as alpine sensation, a large snowglobe featuring a Swiss landscape complete with yodelers and skiers, and Eispalast, an ice palace with frozen sculptures of igloos and penguins (because you know both are totally native to the area).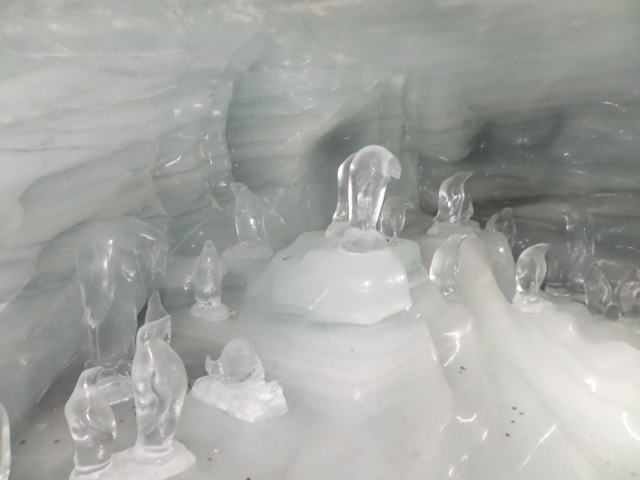 The Sphinx lookout point provides an up-close view of the Jungfrau mountain face and features a "Top of the World" sign so you can take a photo to earn bragging rights back home.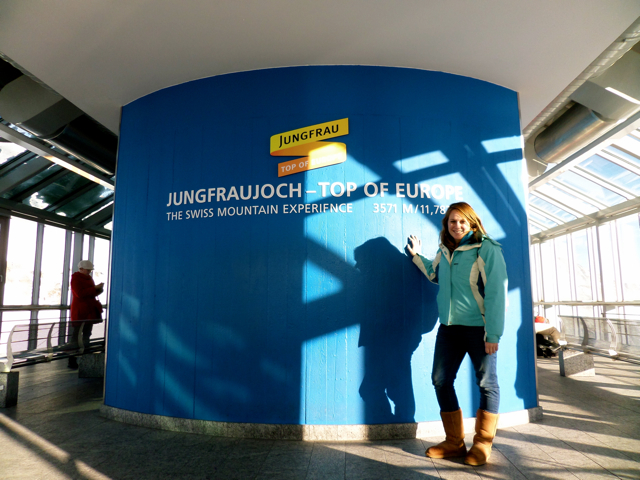 The real highlight of Jungfraujoch is the plateau, a large sectioned off area outdoors where you can experience walking on a glacier and experience 365-degrees of sweeping alpine views. Warning: Frozen fans may have to refrain from bursting into song while hiking in this area.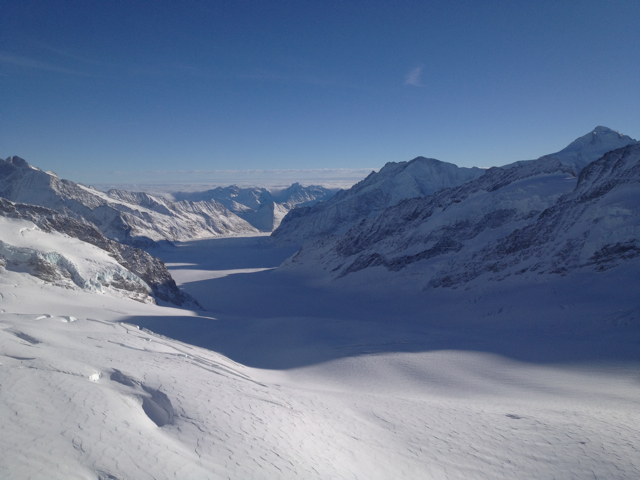 A strategically placed Swiss flag is also a great photo opportunity and made me feel as if I had truly conquered this mountain, instead of sitting my butt on a train for two and a half hours and enjoying the ascent.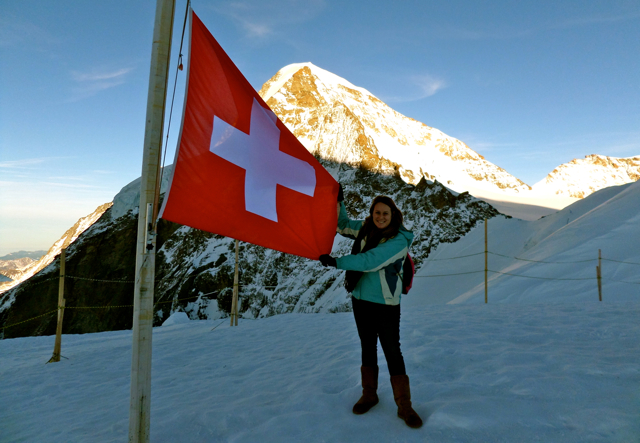 Despite the tourists façade of Jungfraujoch, it is indeed the summit of a wicked high mountain, so its important to wear the warmest clothes you have. When I was at the plateau it was so cold outside that my Iphone automatically shut off while I was taking photos.
The Jungfrau region is a UNESCO World Heritage sight and unlike any landscapes I have ever seen in all my travels. I highly recommend a visit.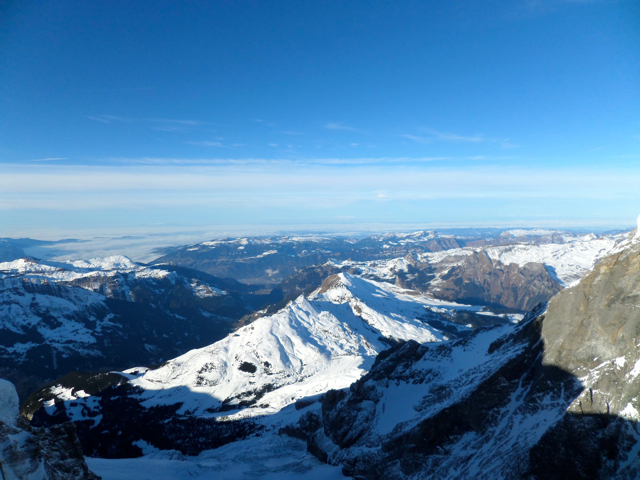 As the train smoothly descends the steep peaks on return to Interlaken, night falls and the landscape is draped with a dark, cozy blanket, illuminated only by the glow of the soft twinkling lights from the quaint villages peaking out below.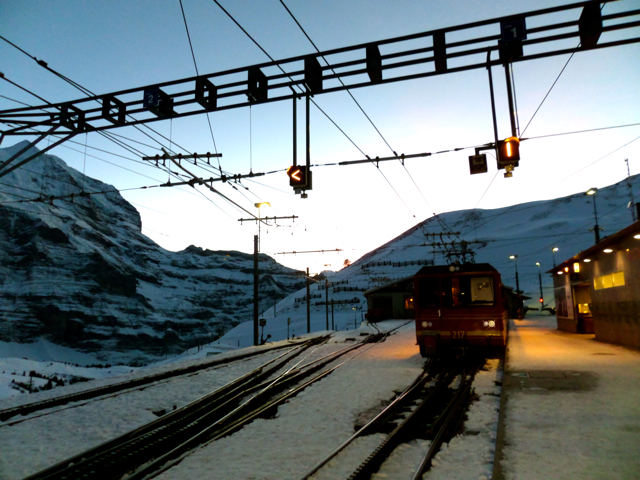 For visitors who have three days to devote to exploring the mountain peaks of the Jungfrau region, the Jungfrau VIP-Pass is the way to go. This pass offers unlimited travel on the Jungfrau Railways on 3 consecutive days and allows access to the ski lifts in the region as well.
From Interlaken, a visit to Jungraujoch is a full day trip. Expect to spend around two hours up top, and with return train journeys, that makes a visit a six-plus hour day.
Note: Interlaken tourism provided me with a Jungfrau VIP-Pass to review. All thoughts and opinions are my own.