Mohamed leads us through the winding streets of the Marrakech medina. We pass under a red archway and wander down a side street, stopping at a small wooden opening in one of the buildings.
"This is Jack of All Trades," Mohammed states in the same matter of fact tone one would use if leading to a well-known attraction such as the Eiffel Tower.
Local Marrakech Through the Eyes of Mohamed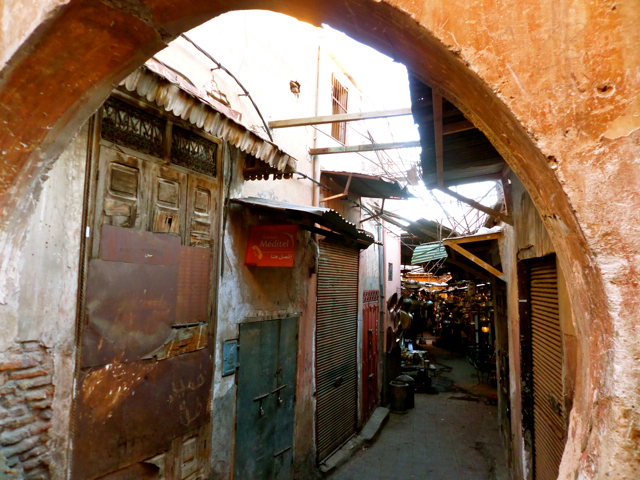 Local Secrets in Marrakech
Mohamed, a local guide, recommended to my travel partner Emily and I by Riad AnaYela, motions to us to enter, and, despite the room looking exactly like the type of place people tell you not to go, Mohamed has such an aura of trust, we follow.
The air inside the high-ceilinged room is dark, lit only by drops of sunlight from an opening in the ceiling, and hazy from sprinklings of dust and wood.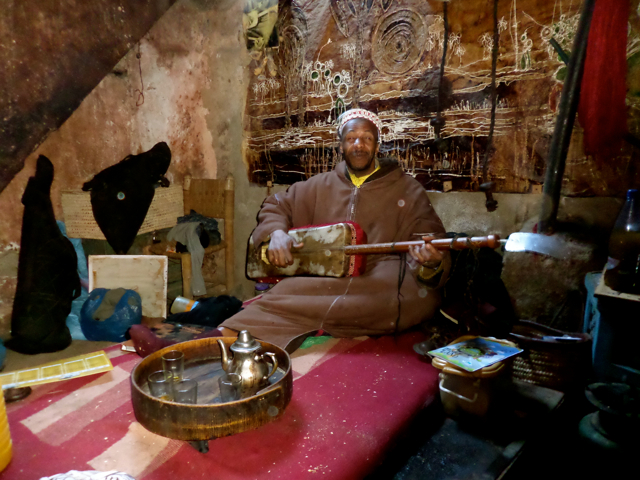 Jack of All Trades is, it turns out a person.  Dressed in a djellaba, a traditional gown, he greets us and places a long log into the large fireplace.
"He is called Jack of All Trades, because he does everything," explains Mohammed. "Heating water for the public baths… if you want to get married you must see him first, and he is a musician."
After demonstrating how he heats the water for the public baths, Jack of All Trades changes his hat, sits on the red mattress in the room, picks up an instrument that resembles a guitar and begins to sing.
This is what part of what made Morocco so beautiful to me – warm, welcoming interactions with locals who shared their culture with me and sought nothing in return.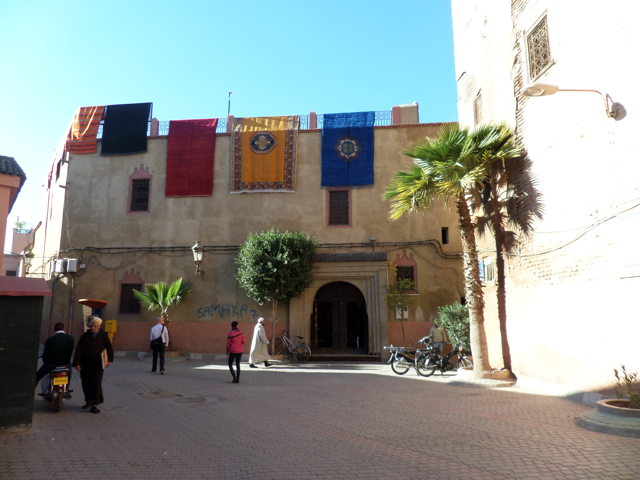 The Maze of the Medina
But I would not have been able to find many of these moments without help from our guide Mohamed.
In fact, I do not think I would have been able to find very much of anything in Marrakech without my Mohamed.
The medina, or old city, of Marrakech is so unlike the western world, and I highly recommend first-time visitors spend their first few hours in the city with a guide.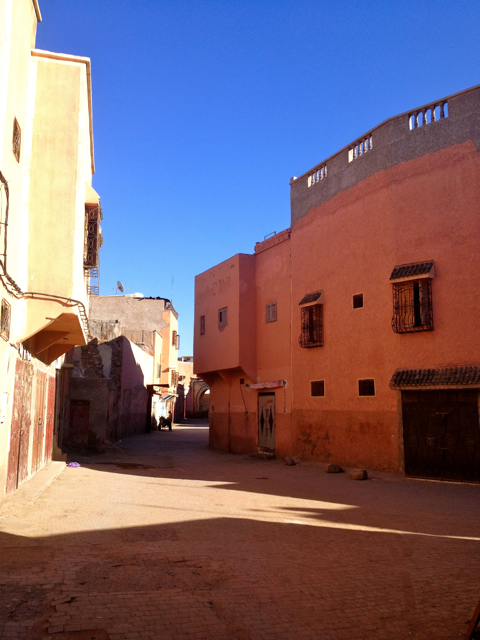 This is not because the city is unsafe, which is what many people will warn you when you tell them you are going to Morocco. I felt very safe in Marrakech, however, at the beginning I felt very lost.
I've hopped off trains in dozens of cities in Europe not knowing a thing about them, picked up a map and a few recommendations from a tourist office, and been on my way to a successful day of site seeing.
This is not possible in Marrakech, especially the medina, which is a maze. There are few street signs and, in congruence with Islamic architecture, many attractions aren't marked because it goes against their culture and religious faith to be flashy on the outside.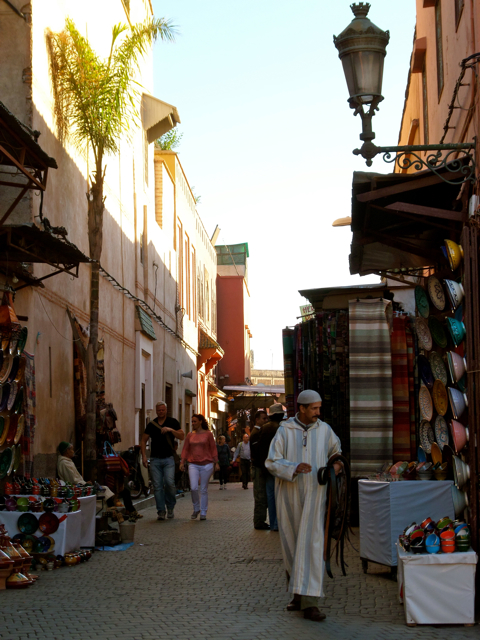 With Mohamed, we wandered past mosques and bathhouses, schools and shops.
An Ancient Islamic University in Marrakech
We visited Ben Youssef Madrasa, an Islamic University from the 14th century. And thanks to Mohamed, got a deeper insight into the beautiful architecture.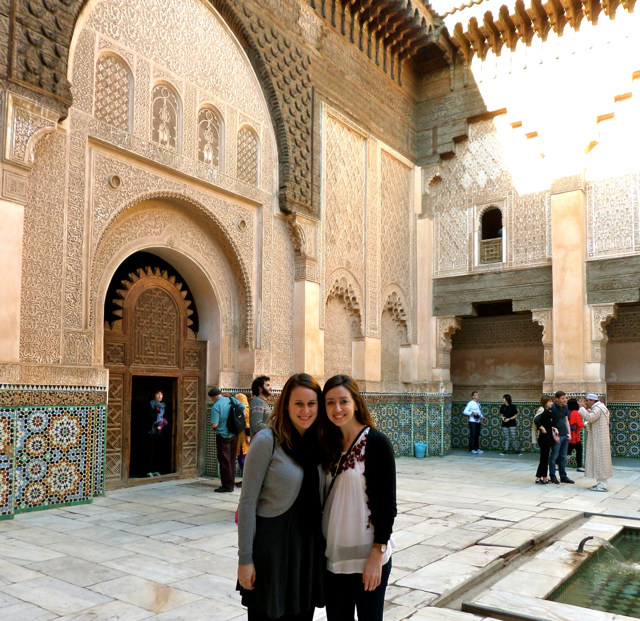 We also visited the nearby Museum of Marrakech.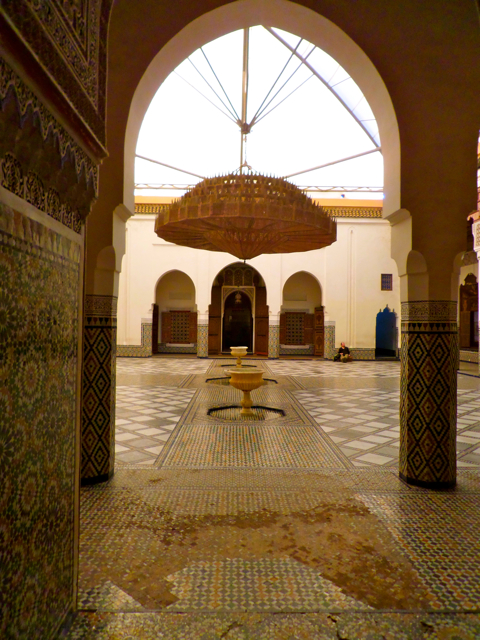 The Souks of Marrakech
Mohamed took us to a few souks. Here the vendors can be a bit aggressive with western visitors, but when Mohamed was with us, everyone was very friendly and even explained their merchandise to us without pressuring us to buy.
At a textile shop we learned how local artisans mix die to color scarves.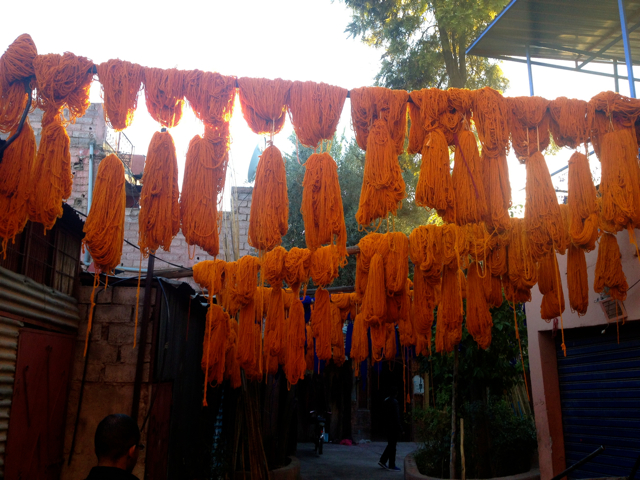 At a spice market we learned of the different spices to make traditional Moroccan cuisine.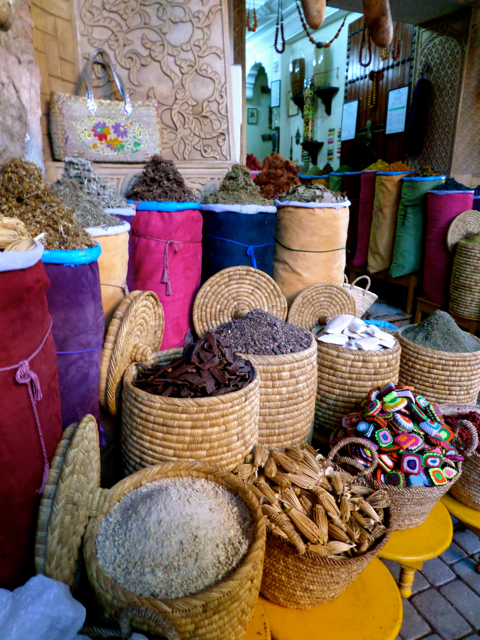 Sunset in Marrakech, Morocco
Mohamed ended our tour on a high note with a visit to a café overlooking Jemaa el-Fnaa, the city's main square. We had a perfect view of the Koutoubia Mosque, the largest in Marrakech, as the sun set.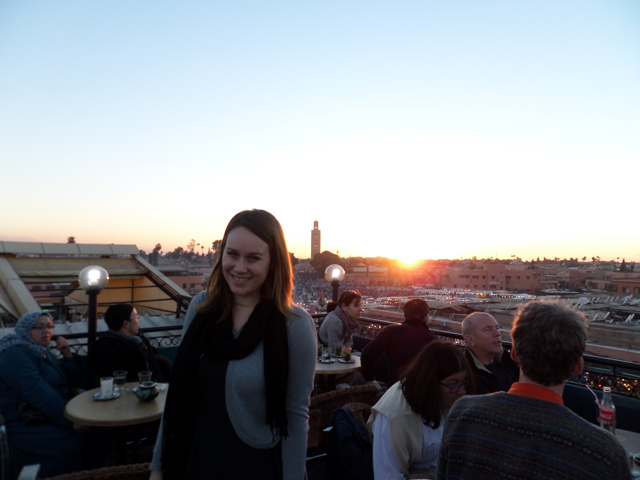 Ever the gentleman, Mohamed even walked Emily and I back to our Riad when the tour was over.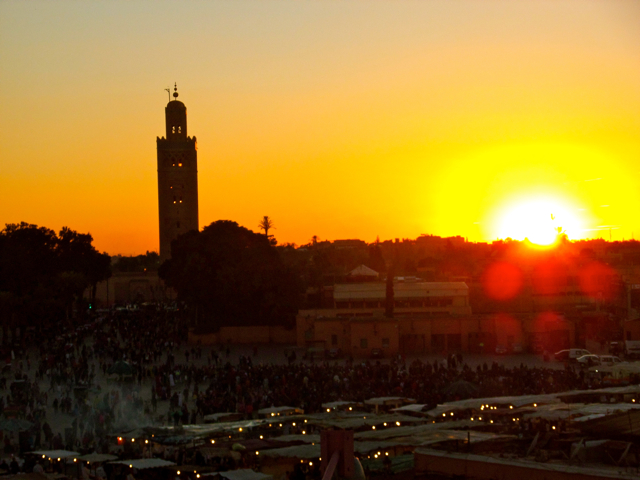 If you go to Marrakech I highly recommend taking a private guided tour with Mohamed Daif. You can contact him via WhatsApp at +212 661370749 or through email at daif996@gmail.com. His rates are very affordable.