With two soft knocks, the aged wooden door of Riad AnaYela creaks open.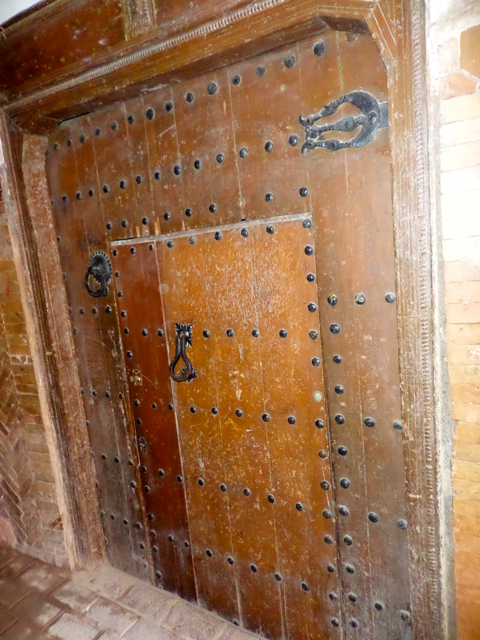 On this plain, dusty street in the heart of the Marrakech medina, it certainly doesn't feel as if I'm about to enter one of the most luxurious Riads in Morocco. Under the cool cover of the African night sky, the building is dimly lit and there's no sign or markings that differentiate it from the street's weaving sea of inconsequential buildings.
But I am in Morocco, an enchanting land where there are lessons to be learned around ever corner. And here I am about to learn my first: Do not be fooled by outwardly appearances. It is what's on the inside that counts.
Where to Stay in Marrakech, Morocco: Riad Anayela
As I make my way to the courtyard I'm transported to a land of fantasy and dreams. A butler is waiting for my travel companion Emily and I with warm towels for washing hands, fresh milk drinks and a welcoming smile. I immediately feel a mixture of awe and relaxation.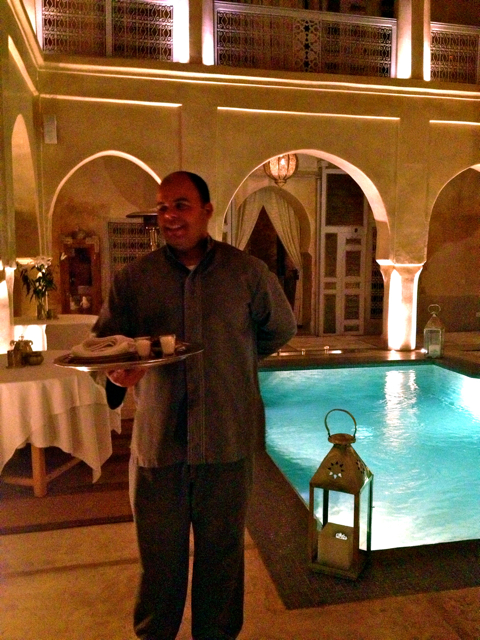 Elegant marble archways frame a swimming pool, dancing with lights and scattered rose petals.
Above, brilliant stars peep through the sashes that cover the roof's opening.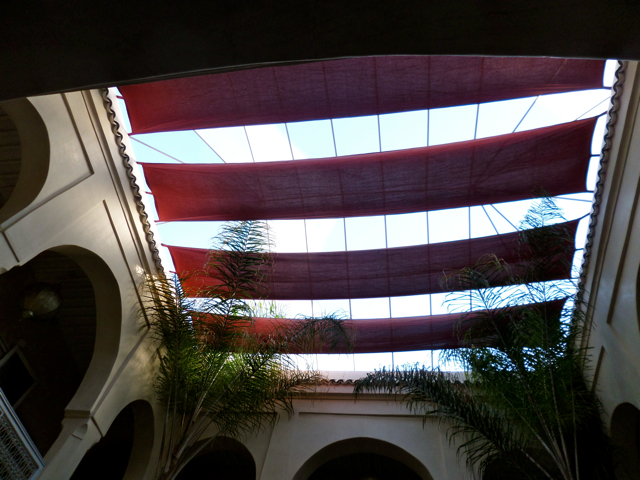 Our Suite at Riad Anayela
It only gets better as we are led to our room.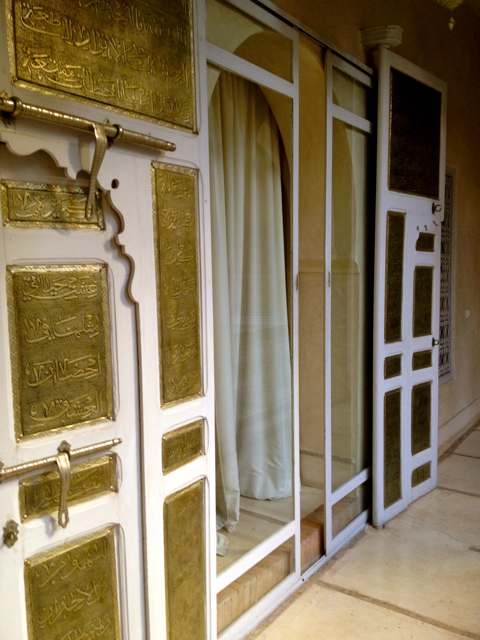 Breezy white curtains cover the doorway to our suite.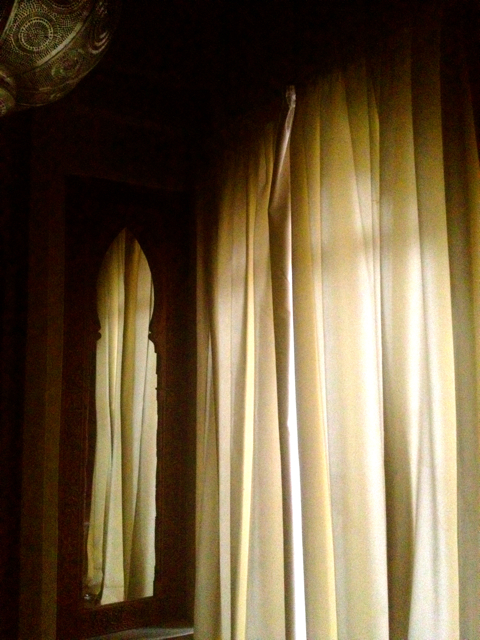 Inside, the cool stone floor will provide respite from the day's heat and the king-sized bed dreamy comfort after our long days exploring Morocco's splendors.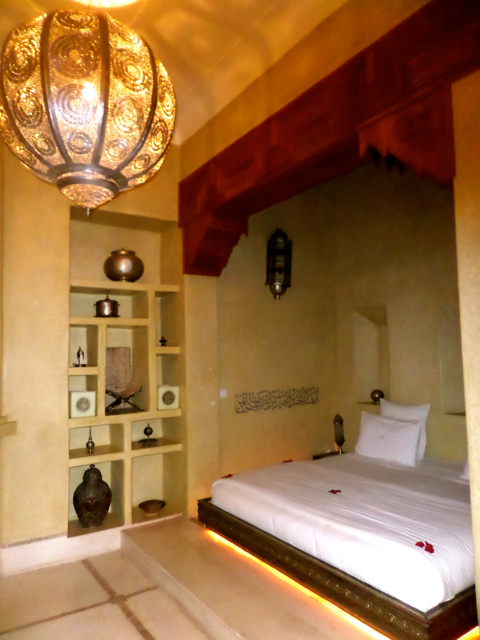 Bronze lamps cast playful shadows on the tan walls that are also decorated with gold inscriptions, sharing the story of Yela, a girl who once lived here and whom the Riad is named after.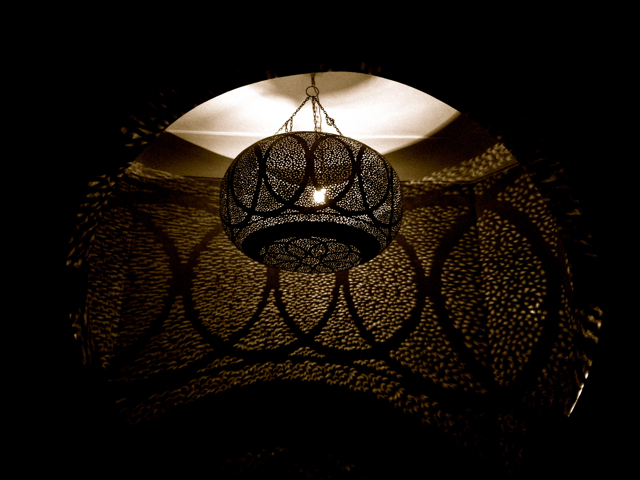 The bathroom is just as luxurious with an oversized bathtub covered in rose petals for our arrival.
If it feels like a palace here that's because it is one. Riad AnaYela, named for Yela, a girl who once lived here, is located in a 300-year old city palace that was renovated in 2007.
Riads of Morocco
Riads, or traditional Moroccan houses with interior gardens or courtyards, have become a popular accommodation option for visitors to Morocco and especially Marrakech. In the medina, or old quarter, of Marrakech alone there are more than 500. But if you are wondering where to stay, look no further than Riad AnaYela.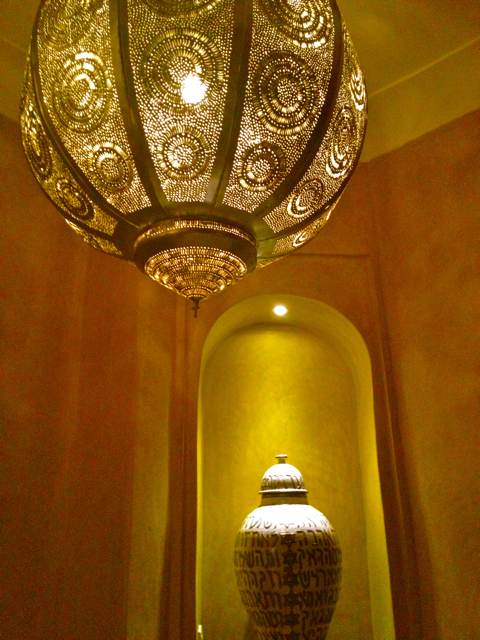 Like most Riads, AnaYela is small, with just five rooms. This size, combined with the friendly nature of the staff, created a unique sense of intimacy that made me feel as if I was staying with my long lost royal family.
The Rooftop of Riad Anayela
One of my favorite places in the Riad is the rooftop.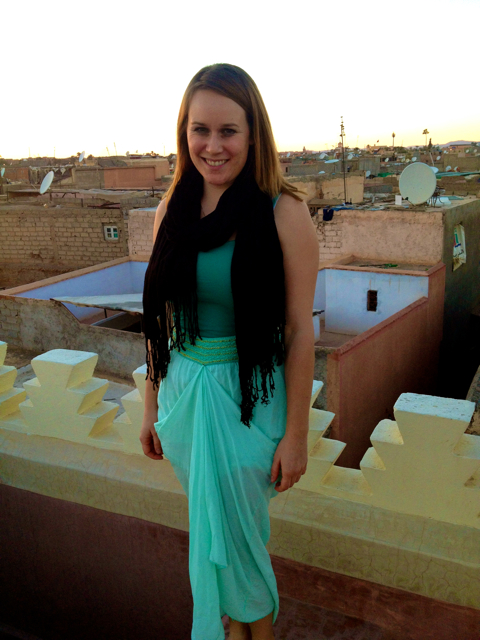 I began each morning here, looking out at the stunning view. The city stretched before me, and I watched as children played football in corridors, donkeys carried goods to the center and men and women gathered at the nearby mosque for prayer.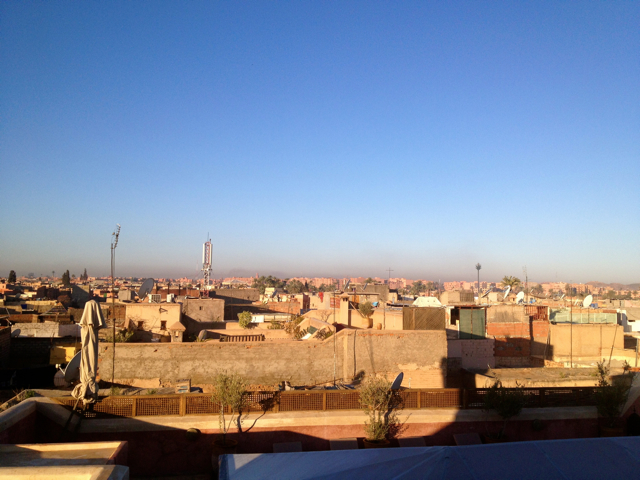 The rooftop was at times peaceful and quiet and at other times alive with the sounds of Morocco – prayer calls and crowing roosters.  In the distance, the snow-peaked Atlas Mountains beckoned.
Breakfast at Riad Anayela
A stay at this Riad also includes a complimentary breakfast every morning.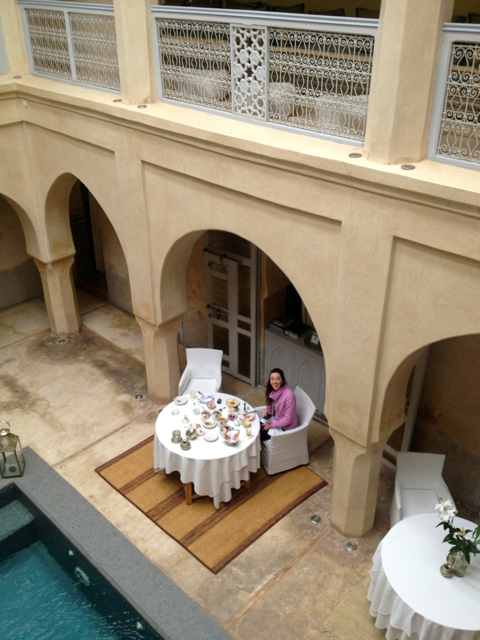 It was so relaxing to wake up and walk down the staircase to a white linen table covered with a feast of Moroccan coffee, juice, pastries, breads and jams.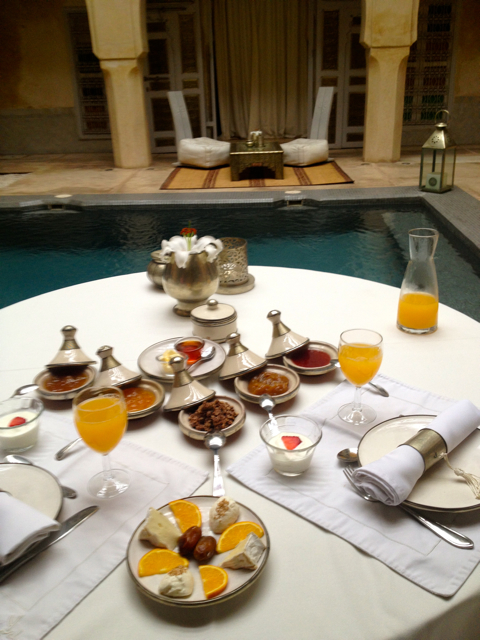 This was my first time in Morocco or anywhere in Africa for that matter, and in my first day or so visiting the country I was a little wary. The staff went out of their way to ensure Emily and I remained safe by giving us directions, calling taxis and finding guides when necessary. They even gave us a cell phone to use in case we needed anything during our adventures away from the Riad.
Airport pickup is also an option for your stay. Medhi, the manager, greeted us at the airport. My heart soared when I saw this tall, smiling man waiting with a sign with my name on it.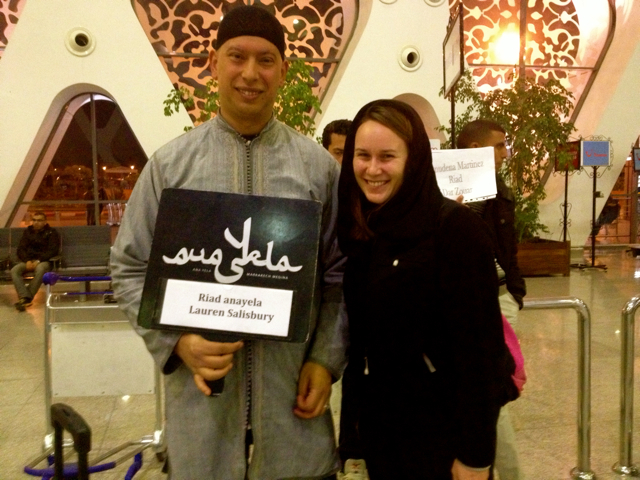 The only thing I would recommend visitors know before a stay here is that, at least for your first few ventures out into the city, you will probably need to hire a taxi. The medina is a maze like I've never seen before and it is easy to get lost. This is not a problem as taxis are highly affordable and available. I've just never been to a city like this before and wanted to share this insight.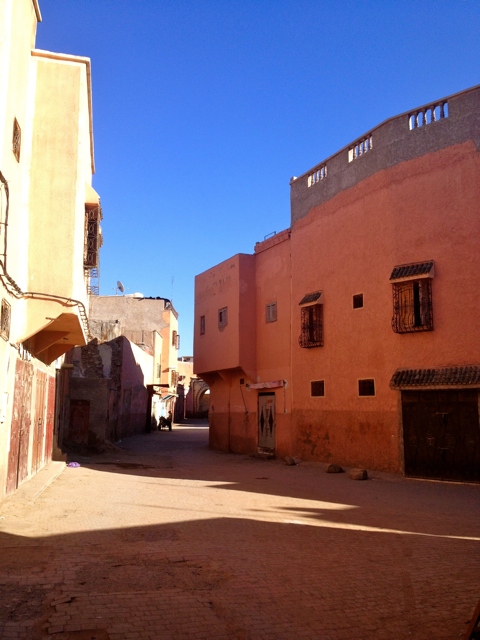 Staying at Riad AnaYela only furthered my love for Morocco. Really, if you are headed to Marrakech I highly recommend staying here for a once in a lifetime experience. Thank you to the entire staff for a wonderful stay!
Note: I was provided with a complimentary stay at Riad AnaYela. However, all thoughts and opinions are my own.