The adult years of my life thus far have – like the title of this blog – been marked by a sense of rambling. Like a scrappy turtle I've shuffled around the country and the globe with my belongs on my back, resting my shell in such varied places as Maryland, Florida, Spain, Costa Rica and California.
With all this movement I have to admit that I haven't always kept up communication with those who are important to me as well as I'd like. My mom on the other hand, is a master in keeping up with friendships and, despite moving across the country nearly twenty years ago, has carried an enduring core of friends with her for decades, from high school and college to marriage and babies to this very troubling present.
My mom and her friends played an integral role in shaping my sense of identity as a woman while I was growing up, not by reading me The Feminine Mystique or burning bras, but with a subtler form of feminism – sharing stories of their lived experiences in the world.
From tales about camping trips in Wyoming's Grand Teton National Park and an epic cycling journey across the United States to shuttle launches at NASA and the challenge of balancing work and family, these women taught me of the strength and power women possess through both their words and actions.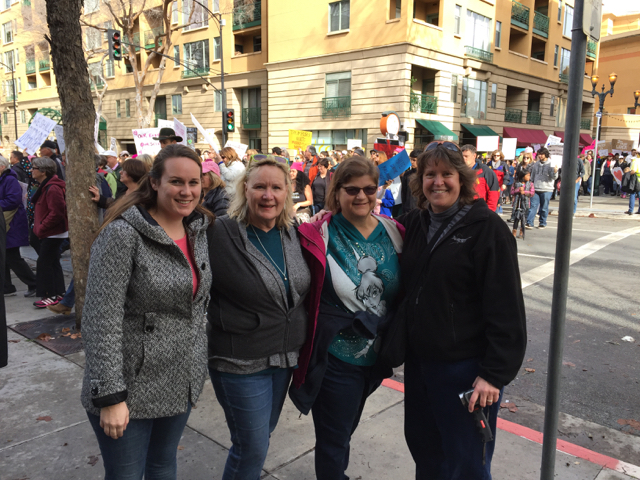 It was an honor then for me to participate in the Women's March in San Jose with my mom and two of her lifelong friends (who have subsequently become my friends as I've grown) this past weekend. To stand up for my beliefs and voice my concerns about the current political climate while being surrounded by so many women (and men and children) who share my values was a powerful experience.
How to Support Local Women When You Travel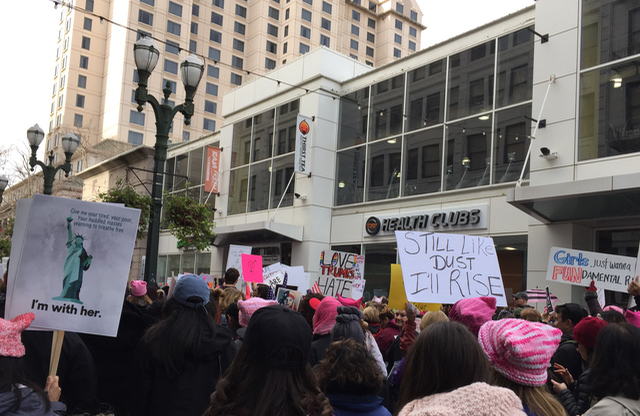 Perhaps as inspiring as the march itself was walking through the booths set up in Plaza de Cesar Chavez Park featuring local nonprofits that represent the varying causes the march stood for, from Planned Parenthood and NexGen Climate to Lawyers for Good Government and Knitted Knockers of Silicon Valley, an organization that knits prosthetic breasts for breast cancer survivors.
The reality is that we can't hold marches every day, but by supporting organizations like these we can take action to affect real change. Attending the march got me thinking about all the smaller ways I personally can support women with my actions. Since travel is my biggest passion and focus of my writings here at Something In Her Ramblings, I thought I'd share a collection of the ways I've learned to support local women when you travel.
Skip the Hotel and Stay Local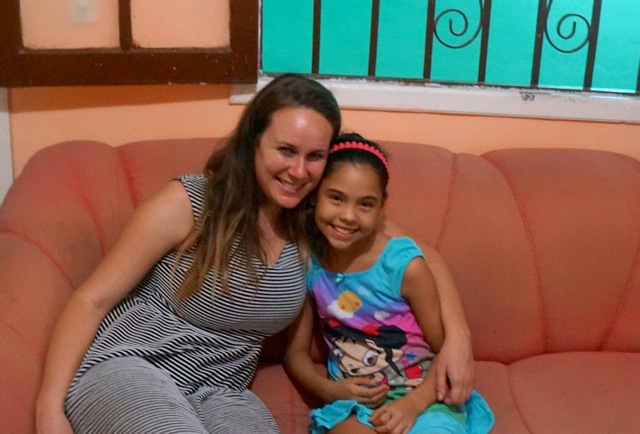 During my visit to Cuba I ended up staying with a local family in Havana at a Casa Particular, or private homestay. Run by a young mother, the homestay provided a way for her to supplement her husband's income while raising her two adorable and curious daughters. I admit my favorite part about staying here was being able to read to her elder daughter who was learning English in school.
As a traveler you have the power to vote with your wallet by spending your hard earned dollars in ways that reflect your values. One of the biggest expenses while traveling is usually accommodation. To support local women, skip the hotel and stay local.
Instead of giving your money to an established hotel brand, consider lodging with a family on a homestay experience, renting out a local's room or apartment or staying at a family-run Bed & Breakfast. This way your dollars go to individuals rather than a corporation.
The internet has made it easier than ever to find a homestay or other alternative accommodation options around the world with websites like homestay.com and AirBnB. Budget accommodation websites like Hostel World and Hostel Bookers also tend to post family-run hotels and Bed & Breakfasts. Online profiles and peer reviews make it easy to select accommodation that is run by women or families.
Buy Souvenirs From Cooperatives that Support Women

On the shores of Lake Atitlan in Guatemala, I trekked through the small pueblo of San Juan, the unofficial cooperative capital of the region. The majority of the town's 8,000 residents support themselves through selling artisan crafts. One cooperative in particular was run by 36 women who make scarves and other textile items by hand. The women here bring their children to work. Steeped in the tradition of their culture, these women have created a system that eludes the modern business world and allows them to simultaneously care for and provide for their families.
Another way to vote with your wallet and support women when you travel is to buy your souvenirs from cooperatives or small businesses that benefit women. Instead of scooping up what you can find in the hotel or airport gift shop, seek out products and stores that will put proceeds into the pockets of individuals rather than a corporation.
Finding local businesses or female artisans to support while you travel doesn't have to be difficult. If you are a planner you can put Google to work and seek out such places in your travel destination ahead of time. If you prefer to wing it like me, just ask around at your accommodations or on a tour for insider recommendations. If your location has any famers or artisan markets this is also a great place to find local vendors selling home made crafts and food items.
Tour with a Female Guide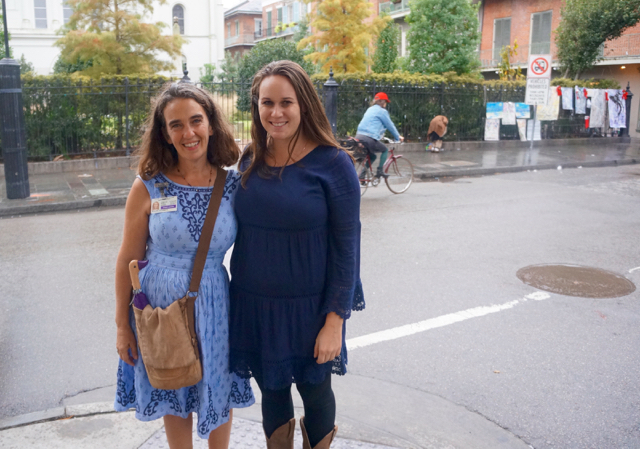 Walking the streets of New Orlean's French Quarter with Libby, a 10th Generation resident of NOLA, I felt passion and knowledge seep out of her pores as we black-wrought iron architecture of the city. A guide at Lucky Bean Tours, Libby not only knew the city like the back of her hand, but was also able to give me a female perspective on the history and culture of the region.
Taking a walking tour is one of my favorite ways to get to learn about places when I travel. The next time you take a city tour, seek out a female tour guide, or better yet an independent business run by a woman. When I was looking for an authentic tour of NOLA it didn't take me long to stumble across Lucky Bean Tours and realize that this was the type of company I wanted to learn from and support.
Unfortunately in many places of the world tourism is a male dominated field. When I look back on my travels I realize that most of my tour guides have been males. I think back with sadness to my visit to Lake Atitlan and remember a young Guatemalan teenager who worked in the tour company office. She answered phones while the boys her age went out in the field training to be guides. She told me it was her dream to be a guide but that there weren't many women guides in the area.
If the demand for female tour guides were higher then surely companies would choose to train more women for these positions. I'd like to think that we as travelers can play a role in voicing the demand.
Play Games (or Read Books) with Kids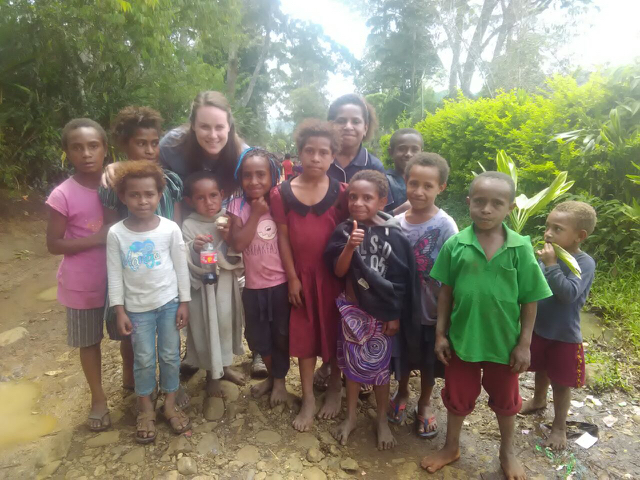 I raise my arms above my head curling my fingers into monster claws and run through a field in the highlands of Papua New Guinea.
"AHHHHHHH," I shout at the top of my lungs as I chase a pile of children across the muddy paths of their village.
At first the group of children is quite small, maybe just five or so, but soon more children spill out from all edges of the village and I find myself chasing a group of 30 kids. They scream and laugh as I pretend I'm hungry and wish to eat them. Their parents are watching me and they laugh too; I'm sure the sight of a tall white girl running after their children is not something they see every day.
My friend Pamela films me and laughs.
"Oh Lauren," she says "These kids are gonna remember you forever."
I love kids. More and more in my travels I've been trying to seek out ways to interact with them. I've found playing games or even reading books are great activities to engage with local kids I meet along my journey – playing and telling stories help us connect on a deeper, more meaningful level as fellow human beings. I believe that spending time with children supports local women though perhaps on a less tangible level. To spend time with a woman's child sends a subliminal message to a woman that her role as a mom is one of value, and by bringing a child joy you can often bring parents joy as they watch their baby light up with happiness.
When you connect with children on their level, even if just for a few moments, you also have the opportunity to be a role model. In showing them love you are one more woman for them to look up to and value. By connecting with young girls from a culture other than your own you teach them through your actions who they can dream of being as adults.
Get Out There and Listen to Women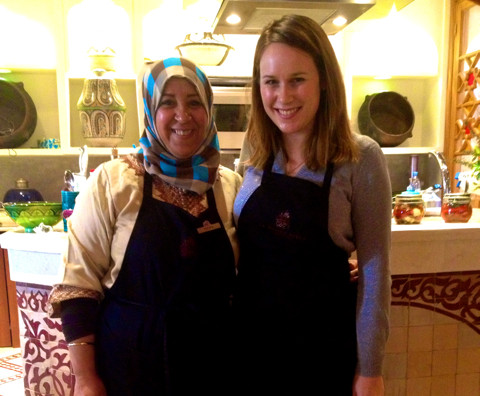 Fatiha's strong hands press into mine as we knead the dough for Khobz, a white bread, to go with the chicken tangine and salads we are preparing for our meal at the La Maison Arabe cooking workshop in Marrakech. Her touch is firm and soft, a mother's touch, and, after being away from my own for so long, it brings me a welcome sense of soothing. Fatiha is muslim. She wears a scarf and practices her faith, and also is a lead instructor at the cooking work shop and has raised several daughters of her own who are studying at university. What I remember most about Fatiha is her joy. To spend a day with her was to spend a day with a woman who is truly happy in life.
I think the best ways to support women when you travel is to just get out there and talk to them. Or rather listen. There's a lot of misconceptions out there about how women outside the United States live. In the media so many generalizations get made, especially about women from certain regions and faiths.
Combat these misconceptions and dig for the truth as you strike up conversations with local women. Talk about the weather, compliment an article of clothing, ask for directions… really the ways to start a conversation with are endless. And then go deeper. Ask these women about their lives, what they value, what they think, what they feel.
Of course there are many places on this planet where life is atrocious for women and human rights abuses are a part of daily life. There are times however when we confuse living life differently with something bad. Learn the truth of what life is like for women in other places and use this to inform your own world view when you return home.
Be Yourself and Shine Your Light
Likewise many misconceptions get made abroad about us, women from America. Unfortunately due to our over sexualized media on more than a few occasions people have made false assumptions about the way I live my life. In living and traveling abroad I've also confronted stereotypes that range from tense – Americans are war hawks who all own guns – to comical – Americans eat at McDonalds every day and all live in California.
I've always held the belief that when I travel I am an ambassador for my country (Which is why it sucks so much that a President who doesn't support my values is representing our country). Like anyone I have my bad days, but when I travel I try to represent the United States through my actions the way I want my country to be perceived – as a place full of kind, respectful and bold people.
When you travel, one of the best ways you can support local women is to just be yourself and share your soul and story with others. There is so much power in just being you. Be open. Be positive. Give love. Give time. Share your culture. Share your dreams and encourage others in the pursuit of theirs. There's no telling who you might inspire by following your path and just being you.