So you're wondering how to ski the Swiss Alps. Oh goodness. Perhaps the title of this blog post misled you. I hope you aren't here to learn the necessary skills to ski the Alps. If you've read my recent account of my day on the slopes, you could probably guess that help from me in this arena would only lead to wipeouts. Don't believe me? For a semi-accurate video depiction of how I looked while recently skiing in the Jungfrau Region of Switzerland, watch this clip featuring Bridget Jones.
No, I can't help you become a better skier. I can however, offer some tips on how to plan a day of skiing in these scenic mountains, using Interlaken as your base.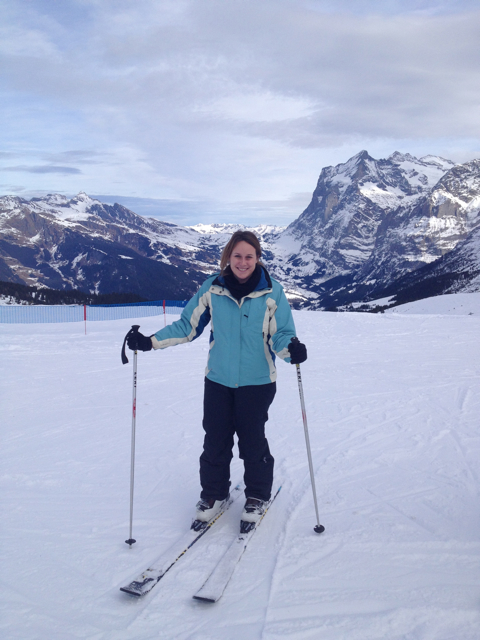 How to Ski the Swiss Alps: Tips from a Beginner Skier
Where can you ski in Interlaken?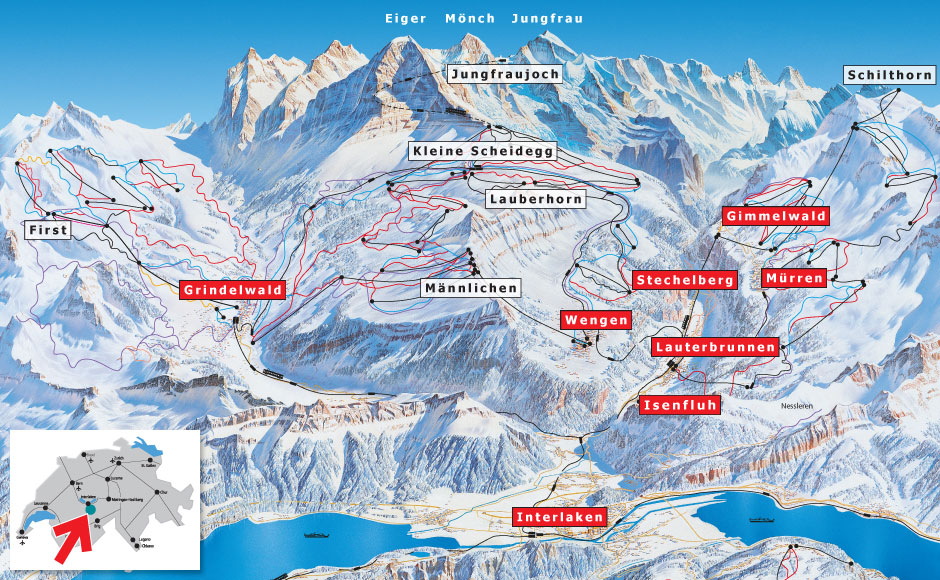 There isn't any actual skiing available in Interlaken. This picturesque town in the Bern Canton of Switzerland is located in a valley surrounded by mountain ranges and lakes. Accommodation options and prices, as well as the breadth of food and shopping, make it a great base to go on adventures in the surrounding nature.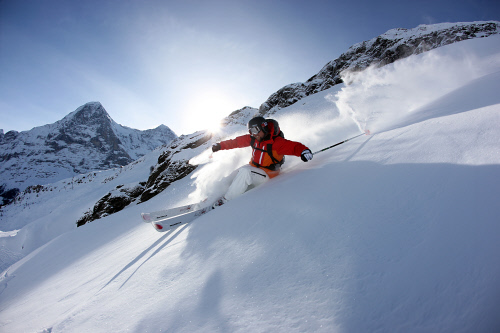 (C) Interlaken Tourism
Jungfrau Ski Regions
The following three ski regions, all part of the larger Jungfrau region and featuring more than 200 kilometers of pistes, the European term for trails, are close enough to visit for a day (or more) of skiing.
Kleine Scheiddef Männlichen: One of the most popular ski regions in Switzerland and home to the annual World Cup downhill run. With 100 kilometers of trails, and 24 lifts, this region offers the most slopes in the region. I skied here and it was awesome.
Grindelwald-First: The most marketed set of slopes, from my observations, all the train stations in the region are busting with signage promoting winter fun here. Grindelwald-First boasts 60 kilometers of trails, nine lifts and a park for snowboarders.
Mürren-Schilthorn: The highest ski resort in this part of Switzerland, the summit is nearly 3000 meters above sea level. With 50 kilometers of trails and 17 lifts, this is supposedly the most scenic region to ski. However, from what I saw, all areas of the region are postcard perfect.
 How do you get to the slopes from Interlaken?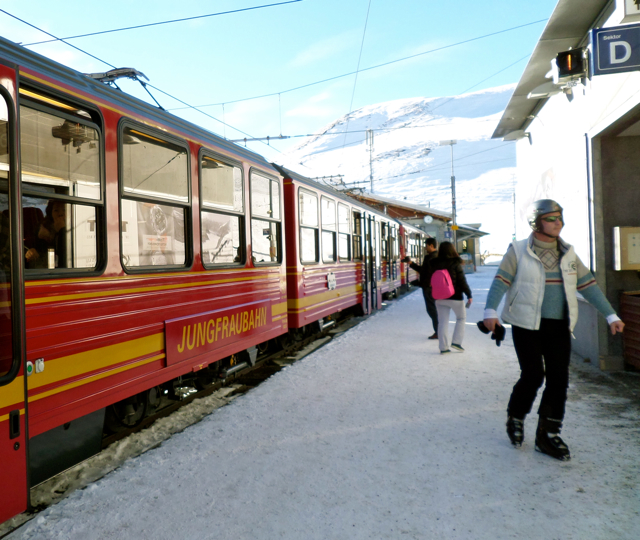 You will be taking a train to reach the slopes. Skiing in Switzerland is different from skiing in the United States. Whereas the (few) ski resorts I've visited State side are separate entities marked with fencing and parking lots, the slopes of the Jungfrau Region mold into the surrounding villages. Skiers use the same transportation as villagers and non-skiing tourists.
Included with the purchase of a lift pass is access to bus and train transportation in the region. Trains run up to various points on the mountains from the main Interlaken station.
Allow at least an hour in travel time from Interlaken.
What are the best options for lift passes?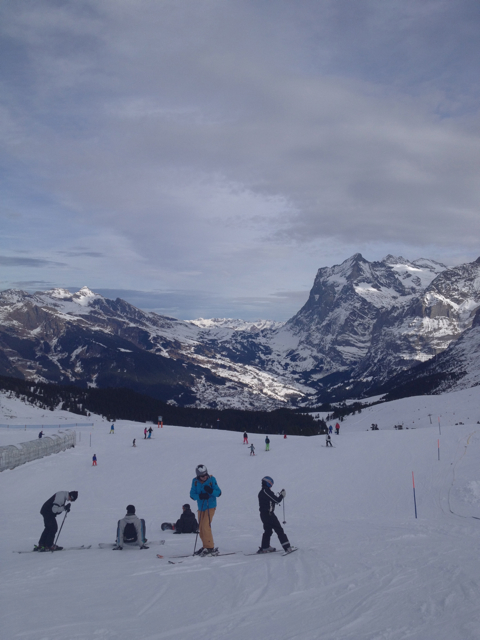 Another difference between skiing in Switzerland and in the United States is the lift passes. No chunky passes attached to coat zippers here. Instead, passes are electronic cards you store inside your jacket. No actual human will check your ski pass before you take off down the mountain. Train and lift gates read the pass and open as you brush by.
Passes are available for individual regions, or the Jungfrau pass gives access to all the regions mentioned above. Half-day passes are available.
I used the Jungfrau pass and highly recommend it. The different regions are all easily accessible by train and this pass lets you more fully explore the region.
Where can I rent equipment?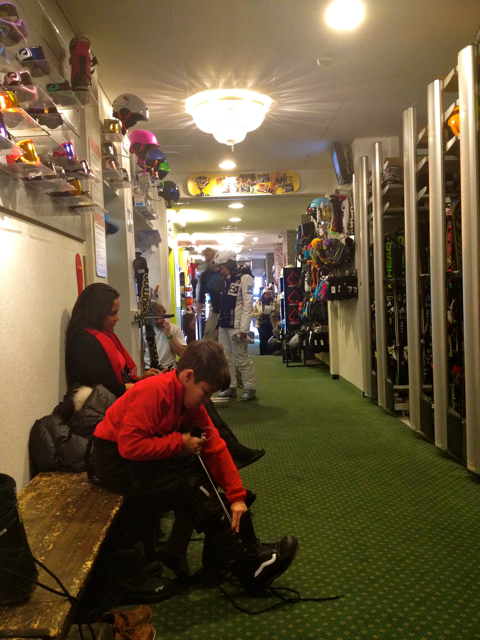 After hours of researching and obtaining word of mouth advice, I can confidently say that Buri Sport is hands down the best place to rent equipment. The shop is located right near the train station in Grindelwald and offers the best prices. The shop runs like a well-oiled machine, and friendly staff had me walking out with boats, skis and snow pants in less than 15 minutes. Many hotels in Interlaken also offer flyers that give a 20 percent discount.
Note: I received a Jungfrau pass to review. All thoughts and opinions are my own.