The world is an exciting place and you should get out there and explore it, even if it means traveling solo!
Welcome to Something In Her Ramblings, your go-to destination for stories and resources for women solo travelers.
Resources for Women Solo Travelers
It is the mission of this travel blog to help women be inspired to travel solo and become more confident in their abilities to do so. Whether you have trekked alone around the globe or are about to embark on your first solo trip, Something In Her Ramblings is here to help you.
Prepare for your journey with these travel tips geared for solo travelers, and get motivated by stories from real female solo travelers in the Women Who Travel Solo column, published every Friday.
Popular Travel Stories
Looking for vivid stories that will capture your imagination and transport you to far-flung regions of the globe? Start with these popular posts:
Flavors of Morocco: La Maison Arabe Cooking Workshop – Morocco
The Importance of Visiting Auschwitz – Poland
Cliff Adventuring in Western Portugal – Portugal
Climbing Pacaya Volcano – Guatemala
Warner Bros. VIP Studio Tour – California, U.S.A.
About Lauren Salisbury
Something In Her Ramblings is produced by Lauren Salisbury, a writer and solo traveler who has visited 39 countries and counting.
A California native, Lauren is a long time lover of Disneyland and the San Francisco Giants. Her parents inflicted her with the travel bug at an early age, taking her and her siblings Emma and Sean to 46 states on family road trips.
Adventurous and eager to see the world, Lauren started her journey as a woman solo traveler while studying journalism at the University of Maryland. She participated in an exchange program in Australia at RMIT University in Melbourne and backpacked solo up Australia's East Coast.
Lauren began her career writing for Walt Disney Parks and Resorts and doing public relations in Central Florida. In 2013 she took a leap of faith and left her settled existence in the United States behind to teach English in Madrid. During her year in Europe she fulfilled her goal of visiting 25 countries at age 25.
Costa Rica is Lauren's current home base, where she lives in the rainforest and works as the Marketing & Media Manager for Outward Bound.
Her writing has appeared in NBC Bay Area News, Go Overseas, Pink Pangea and the Tico Times. Follow all her adventures on Facebook, Instagram and Twitter.
Lauren can be reached at lsalisbury24@yahoo.com.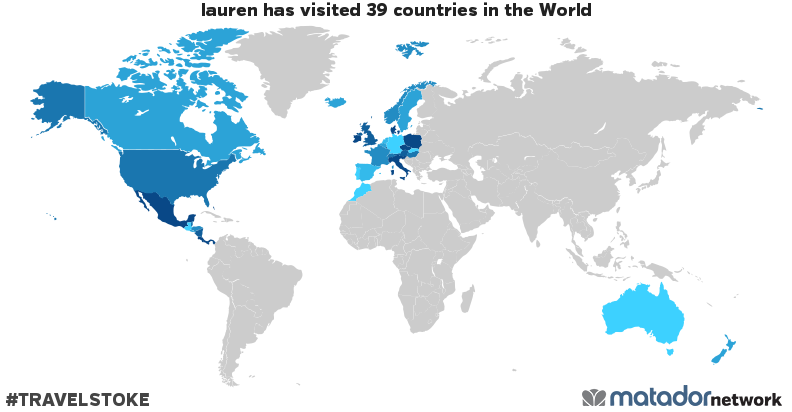 Lauren has been to: Austria, Australia, Belgium, Bahamas, Belize, Canada, Switzerland, Costa Rica, Czech Republic, Germany, Denmark, Spain, France, United Kingdom, Guatemala, Honduras, Hungary, Ireland, Iceland, Italy, Cayman Islands, Luxembourg, Morocco, Monaco, Mexico, Nicaragua, Netherlands, Norway, New Zealand, Panama, Poland, Portugal, Sweden, Slovenia, Slovakia, San Marino, El Salvador, United States, Vatican.
Get your own travel map from Matador Network.